Christina Ricci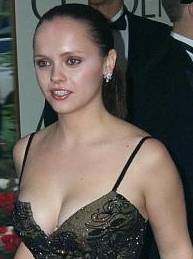 Check out our Christina Ricci photo gallery.
Born: Feb. 12, 1980 Santa Monica, California, USA
[Please note that we are recovering from a bad database backup and some of our bio entries might be a bit stale. We are baking up a fresh batch as soon as possible.]
Christina Ricci has been blessed with a career that has allowed her to bypass the former child-star tag and move instead, like Thora Birch, into the "we've watched her grow up onscreen" arena.
Christina, the youngest of four siblings, was born in Santa Monica on February 12th, 1980. When she was seven her family packed up and moved to the East Coast, settling in Montclair, New Jersey. While performing in a show at school, Christina was noticed by a local movie critic who was so taken by her talent that he persuaded her parents to find her an agent. Before long the Ricci's youngest child was shooting commercials.
Shortly after she started her TV work, Christina landed the role of Cher's daughter in 1990's Mermaids. Working alongside Winona Ryder and Bob Hoskins, the young performer held her own. A year later, she really hit the public radar when she played Wednesday in Barry Sonnenfeld's film version of The Addams Family. She followed that hit with roles in Now and Then (playing a younger version of Rosie O'Donnell's character), Casper and other forgettable flicks like The Secret of Bear Mountain, The Last of the High Kings and (ugh) a remake of That Darn Cat in 1997.
She could have faded off the map at that point but her next 1997 role was in director Ang Lee's The Ice Storm. Her performance was widely praised and critic James Berardinelli called her "one of the best actresses of her generation." A string of independent films followed that performance. Roles in Pecker, I Woke Up Early the Day I Died and Desert Blue allowed her to work on her craft out of the mainstream limelight but that limelight found her again when she received critical acclaim for her roles in Buffalo '66 and The Opposite of Sex for which she was nominated for a Golden Globe.
In 2000, Christina appeared in a big studio film, Sleepy Hollow, opposite Johnny Depp. She noticed that the big budget publicity machine acts differently than the indie scene, noting that the ads enlarged her breasts to be wider than her shoulders. She returned to the indie scene again in 2001, starring in Prozac Nation, which premiered at the Toronto International Film Festival.
Christina also had a recurring role on TV's Ally McBeal in its final season.
Christina was no stranger to the big screen in 2003, appearing in Woody Allen's Anything Else, Adam Goldberg's I Love Your Work, and working opposite Charlize Theron in the critically-acclaimed Monster.
In 2005, Ricci appeared in Wes Craven's Cursed. She kept very busy in 2006, adding two appearances on TV's Grey's Anatomy and roles in Penelope (with Reese Witherspoon) and Home of the Brave and Black Snake Moan (both with Samuel L. Jackson) to her resume. In 2008, Christina played Trixie in the Wachowski Brothers' Speed Racer.
In March of 2009, Ricci announced that she was engaged to actor Owen Benjamin. The engagement was subsequently called off.
The 2011 TV season saw Christina taking a lead turn on ABC's Pan Am, where she played flight attendant Maggie Ryan. The show was cancelled early in 2012 after fourteen episodes. That same year, Ricci appeared in the Civil War drama War Flowers with Tom Berenger and Jason Gedrick. The next year, she voiced Vexy in The Smurfs 2 and played a drama teacher helping an aboriginal student escape a life of drugs in the Australian film Around the Block. She married James Heerdegen in October of 2013 and the couple had a son in 2014.
2014 also saw Ricci take on the role of the axe-wielding daughter in Lizzie Borden Took an Ax, which then led to the mini-series The Lizzie Borden Chronicles in 2015. That same year she played the title role in the series Z: The Beginning of Everything, which traced the life of Zelda Sayre Fitzgerald, an icon of the 1920's Jazz Age.
2016 saw her in Mothers and Daughters opposite Eva Amurri Martino, Courteney Cox, Sharon Stone, Susan Sarandon, Selma Blair and Mira Sorvino.
As time progresses, we'll have more info about Christina Ricci here. If you have any comments or suggestions about our coverage, please email us.