Adam Sandler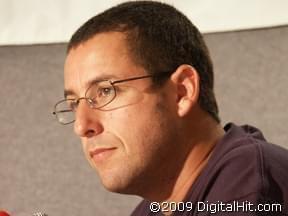 Check out our Adam Sandler photo gallery.
Born: Sept. 9, 1966 Brooklyn, New York, USA
[Please note that we are recovering from a bad database backup and some of our bio entries might be a bit stale. We are baking up a fresh batch as soon as possible.]
Adam Richard Sandler was born on September 9th, 1966 in Brooklyn, New York. After high school, Sandler was accepted into New York University where he was enrolled in the theatre program, while still pursuing his stand up comedy at night and auditioning for television roles.
In 1987, Sandler had his first television break with recurring roles on The Cosby Show and MTV's game show Remote Control. Sandler then made the move to Los Angeles, but he wouldn't end up staying there very long. One night, while performing at the Improv, comedian Dennis Miller caught his act and immediately knew talent when he saw it. He called his boss at SNL, Lorne Michaels, and arranged a meeting for the young comic. In 1990, Sandler was hired as a writer on Saturday Night Live and by 1991 he had joined the cast.
During his time on SNL, Sandler was seen in the 1993 film Coneheads and in 1994 he had roles in Airheads and Mixed Nuts. After leaving the sketch comedy show, Sandler's next film gig was 1995's Billy Madison, which he also wrote. This would be the first of many vehicles Sandler wrote for himself to star in. In 1996, he wrote and starred in Happy Gilmore, worked on Bulletproof with Damon Wayans and released a double album, What the Hell Happened to Me? which went double platinum.
In 1998, Adam starred in The Wedding Singer with Drew Barrymore and The Waterboy with Kathy Bates and Anna Paquin. More comedies followed like 1999's Big Daddy, 2000's Little Nicky and 2001's The Animal which starred pal Rob Schneider.
A different turn came in 2002, when Sandler starred in a more subtle film, Paul Thomas Anderson's Punch-Drunk Love. He followed that working opposite Winona Ryder in Mr. Deeds and doing voiceover work on the holiday film Eight Crazy Nights. The next year, in 2003, he starred opposite Jack Nicholson in Anger Management. 2004 saw Sandler reteam with Drew Barrymore for 50 First Dates and change things up again in Spanglish with Tea Leoni and Paz Vega.
In 2005, Adam remade the 1970s Burt Reynolds football flick The Longest Yard. In 2006, he worked with Kate Beckinsale and Christopher Walken in the dark comedy Click and starred with Don Cheadle and Jada Pinkett Smith in the 9/11 drama Reign Over Me.
A busy 2008 saw Sandler in I Now Pronounce You Chuck and Larry with Kevin James and Jessica Biel, You Don't Mess With the Zohan opposite Emmanuelle Chriqui and the family comedy Bedtime Stories with Keri Russell. The following year saw him in another dark comedy, Judd Apatow's Funny People, which starred Seth Rogen and Jonah Hill.
As time progresses, we'll have more info about Adam Sandler here. If you have any comments or suggestions about our coverage, please email us.