Emmanuelle Chriqui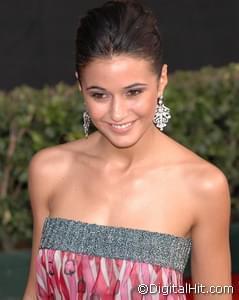 Check out our Emmanuelle Chriqui photo gallery.
Born: Dec. 10, 1977 Montreal, Quebec, Canada
[Please note that we are recovering from a bad database backup and some of our bio entries might be a bit stale. We are baking up a fresh batch as soon as possible.]
Emmanuelle Sophie Anne Chriqui was born on December 10, 1977 in Montreal, Quebec, Canada. Her exotic beauty comes from her Jewish parents of Moroccan descent. Early on, her family moved from Montreal to Toronto where she began acting at a local theatre.
By 10 years old, Emmanuelle was cast in her first commercial. Guest starring roles on Canadian television followed with appearances in Forever Knight, Traders, PSI Factor: Chronicles of the Paranormal, The Adventures of Sinbad, and Once a Thief.
She had roles in 1995's The Donor, and the TV movies Unwed Father, Principal Takes a Holiday, A Champion's Fight: A Moment of Truth Movie, Futuresport, and Alien Abduction: Incident in Lake County.
Her first real Hollywood feature was 1999's Detroit Rock City, a comedy road movie about four teenagers finding their way to a KISS concert. She kept busy in 2000, with roles in Ricky 6, Snow Day and 100 Girls, which also starred Katherine Heigl. She then went on to star in 2001's On The Line with Lance Bass and Joey Fatone and in Wrong Turn with Eliza Dushku, Kevin Zegers and Jeremy Sisto.
In 2005, she appeared in several episodes of The O.C. and worked on Waiting alongside Ryan Reynolds, Anna Faris and Justin Long. That same year she was seen in Adam and Eve opposite Cameron Douglas and In the Mix starring Usher and Chazz Palminteri.
2005 also saw her join the cast of the Mark Wahlberg-produced Entourage with series regulars Kevin Connolly, Adrian Grenier, Kevin Dillon and Jeremy Piven. During this time she was seen in Waltzing Anna, the TV movie Deceit and After Sex with Mila Kunis and Jane Seymour.
In 2008, Emmanuelle appeared in August and the comedy You Don't Mess with the Zohan opposite Adam Sandler.
As time progresses, we'll have more info about Emmanuelle Chriqui here. If you have any comments or suggestions about our coverage, please email us.