Katherine Heigl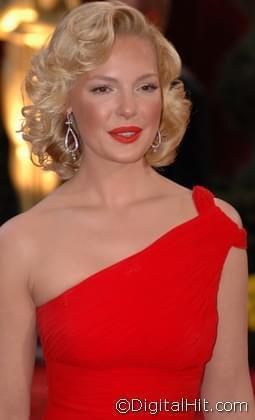 Check out our Katherine Heigl photo gallery.
Born: Nov. 24, 1978 Washington, D.C., USA
[Please note that we are recovering from a bad database backup and some of our bio entries might be a bit stale. We are baking up a fresh batch as soon as possible.]
Katherine Heigl was born in Washington, D.C., but soon moved to New Canaan, Connecticut. She was a child model which led to numerous print ads and commercials. Heigl made her feature film debut in 1992's That Night which starred C. Thomas Howell, Juliette Lewis and Eliza Dushku. The next year she was cast in Steven Soderbergh's King of the Hill
In 1994, Katherine performed alongside Gérard Depardieu in My Father the Hero, then appeared in Under Siege 2: Dark Territory with Steven Seagal and Eric Bogosian, and Wish Upon a Star.
Katherine graduated high school in 1997, the same year she appeared in Prince Valiant and Stand-ins The next year, she worked on Bug Buster, Bride of Chucky and The Tempest, a TV movie with Peter Fonda.
In 1999, Katherine starred in the TV cult hit Roswell with Jason Behr and Brendan Fehr. During her run on Roswell, Heigl worked on 100 Girls, and Valentine, which starred Denise Richards, David Boreanaz and Marley Shelton. She kept busy in 2003, working on the TV movies Vegas Dick with Elliot Gould, Evil Never Dies with Charles Gibson, Critical Assembly, Wuthering Heights with Erika Christensen and the film Descendant which starred Jeremy London. The next year, she made another TV movie, Love's Enduring Promise.
Heigl was busy again in 2005 with roles in Romy and Michele: In the Beginning (where she played the role originated by Mira Sorvino), Side Effects and The Ringer starring Johnny Knoxville and Brian Cox.
In 2005, Katherine started making weekly housecalls when she was cast as Dr. Isobel "Izzie" Stevens on the medical show Grey's Anatomy which featured Ellen Pompeo, Patrick Dempsey and Sandra Oh.
In 2006, she appeared in Caffeine as well as Zyzzyx Rd. with Tom Sizemore. She continued making films in her Gray's hiatus times, starring with Seth Rogen in Judd Apatow's Knocked Up in 2007 and 27 Dresses with James Marsden in 2008.
Unfortunately, Heigl has recently been perceived as a bit of a "biting the hand that feeds you" diva in the media. She was quoted calling Knocked Up "sexist" and then delivered a snub to the Gray's Anatomy writers when she pulled her name from Emmy consideration saying that "I did not feel that I was given the material this season to warrant an Emmy nomination." She added that a nomination would reflect on the TV Academy's integrity. After that, you could almost sense the "Gray's" writers preparing that "very special episode" where her character falls down an elevator shaft.
As time progresses, we'll have more info about Katherine Heigl here. If you have any comments or suggestions about our coverage, please email us.