Jennifer Garner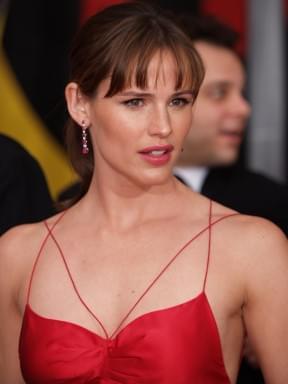 Check out our Jennifer Garner photo gallery.
Born: Apr. 17, 1972 Houston, Texas, USA
[Please note that we are recovering from a bad database backup and some of our bio entries might be a bit stale. We are baking up a fresh batch as soon as possible.]
Born on April 17th, 1972 in Houston, Texas, Jennifer Garner was raised in Charleston, West Virginia.
Jennifer studied dance in her teens and though she enrolled at Denison University as a chemistry major, her love for acting eventually had her switching her major to drama.
Jennifer headed off to New York to pursue her dreams. She managed to start landing film and TV gigs in the mid-1990s, including appearances on Law & Order and Spin City. She appeared in the NBC miniseries Danielle Steele's 'Zoya' in 1995 and then took the lead in a CBS movie, Harvest of Fire. Other credits around that time include Rose Hill and the ABC miniseries Larry McMurtry's Dead Man's Walk.
Jennifer's big screen debut was in Washington Square in 1997, a year that also saw her land parts in the films Deconstructing Harry and Mr. Magoo.
Jennifer then starred in quickly cancelled series Significant Others, which was produced by the team behind Party of Five. After that experience, Jennifer had a recurring role on Felicity, where she met actor Scott Foley. The creators of PO5 called again and this time Garner worked opposite Jennifer Love Hewitt in the ill-fated PO5 spin-off The Time of Your Life.
In 2000, Jennifer worked with Ashton Kutcher in Dude, Where's My Car? That same year she married Scott Foley.
Though 2001 had Jennifer appearing in the critically-savaged Pearl Harbor, the year also started the actress' starring role as Agent Sydney Bristow on TV's Alias, a role that has, um, garnered her several Emmy and Golden Globe nominations and a Globe win in 2002.
With boffo TV success and a huge fan base, Jennifer got called back to the big screen, appearing with Tom Hanks and Leonardo DiCaprio in Catch Me If You Can (2002) and Ben Affleck in 2003's Daredevil.
Garner's marriage to Scott Foley ended in 2003. The following year, she had a big screen comedy, 13 Going on 30 rest squarely on her shoulders. Her character from Daredevil was then spun off in 2005's Elektra.
Jennifer married Ben Affleck on June 29th, 2005 and welcomed a daughter, Violet Anne Affleck, on December 1st, 2005. Her TV show, Alias, wrapped up the following year. That same year also star in Catch and Release with Timothy Olyphant and Kevin Smith.
2007 saw Garner in two very different films: the action film The Kingdom opposite Jamie Foxx and Chris Cooper and the ensemble comedy Juno with Elliot Page, Jason Bateman and Michael Cera.
Garner and Affleck started off 2009 welcoming their second daughter, Seraphina Rose. She also starred in two comedies: Ghosts of Girlfriends Past with Matthew McConaughey and Emma Stone and The Invention of Lying opposite Ricky Gervais, Jonah Hill and Rob Lowe. The following year she appeared in director Garry Marshall's ensemble comedy Valentine's Day, whose cast featured Julia Roberst, Jamie Foxx and Bradley Cooper.
2011 saw Garner in the remake of Arthur with Russell Brand and Helen Mirren and Butter, whose cast, featuring Ty Burrell and Olivia Wilde, blew the lid off the world of competitive butter carving. (Who knew?) She followed that with the 2012 family film The Odd Life of Timothy Green. Speaking of family, Affleck and Garner welcomed their third child, son Samuel, in February of 2012.
She took a dramatic turn with the critically hailed Dallas Buyers Club, which saw her working alongside Matthew McConaughey and Jared Leto. A busy 2014 saw her working with Kevin Costner in Draft Day, playing an overprotective helicopter mom in Jason Reitman's Men, Women & Children with Adam Sandler and Ansel Elgort, and teaming up with Steve Carell for the family comedy Alexander and the Terrible, Horrible, No Good, Very Bad Day.
In 2015, Garner appeared opposite Al Pacino and Annette Bening in Danny Collins. On June 30th of that year, she and Ben Affleck announced they would be ending their 10-year marriage.
As time progresses, we'll have more info about Jennifer Garner here. If you have any comments or suggestions about our coverage, please email us.