Michael Cera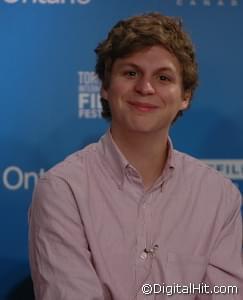 Check out our Michael Cera photo gallery.
Born: June 7, 1988 Brampton, Ontario, Canada
[Please note that we are recovering from a bad database backup and some of our bio entries might be a bit stale. We are baking up a fresh batch as soon as possible.]
Michael Austin Cera was born in Brampton, Ontario, Canada, on June 7, 1988. Cera's career started early and, like most actors, was mostly comprised of television commercials. He then made the natural progression into guest-starring roles and made-for-TV movies in Canada. Some of his early projects included Rolie Polie Olie, I Was a Sixth Grade Alien, Twice in a Lifetime and one of Mary-Kate and Ashley Olsen's many tween flicks, 1999's Switching Goals.
Michael also played Amercia Hoffman in the biopic Steal this Movie which starred Vincent D'Onofrio and Janeane Garofalo. More roles followed with 2000's Frequency with Dennis Quaid and James Caviezel and La Femme Nikita. In 2002 he appeared in the George Clooney-directed Confessions of a Dangerous Mind starring Sam Rockwell.
Cera hit paydirt in 2003 when he was cast as George-Michael Bluth in the critically-acclaimed television comedy Arrested Development, which had an ensemble cast featuring Jason Bateman, Jeffrey Tambor, Jessica Walter, Portia de Rossi, Tony Hale, Will Arnett, David Cross and Alia Shawkat. Cera's comedic talents really shone opposite this very talented cast. Although a cult hit, the show was short-lived and Cera moved on to other projects. He co-wrote, produced and co-directed the webisode Clark and Michael, a mockumentary looking at the production and development world in Hollywood.
More guest-starring roles followed, but it was 2007's Superbad that really put him on the map. Starring with Jonah Hill, Cera once again showed the world what a talented comedic actor he is. Also that year, Cera played Paulie Bleeker, the kid who surprisingly knocks up Juno (Elliot Page) in Juno.
As time progresses, we'll have more info about Michael Cera here. If you have any comments or suggestions about our coverage, please email us.