Alan Cumming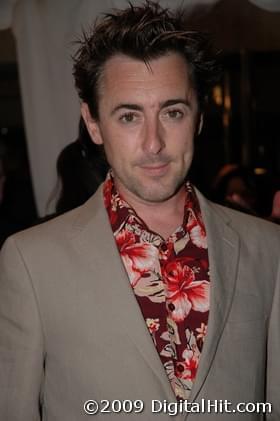 Check out our Alan Cumming photo gallery.
Born: Jan. 27, 1965 Aberfeldy, Scotland, UK
[Please note that we are recovering from a bad database backup and some of our bio entries might be a bit stale. We are baking up a fresh batch as soon as possible.]
Alan Cumming was born January 27, 1965 in Aberfeldy, Perthshire, Scotland. Comfortable on stage and screen, Cumming toiled away in roles in many British series and TV movies like Take the High Road, Taggar, Shadow of the Stone, The Last Romantics and Dread Poet's Society.
A star on the London stage, Alan caught everyone's attention in 1993 when he played the role of the debauched Emcee in Cabaret opposite Jane Horrocks.
Cumming's film debut was in a 1986 student film, Passing Glory. He wouldn't be seen on the big screen again until 1992 when he starred in Prague. That was followed by voicing the title horse in Black Beauty and working again with Horrocks on the adoption drama Second Best. 1994 also saw his directorial debut, Butter, and he worked with Minnie Driver on That Sunday.
Cumming and Driver then worked on 1995's Circle of Friends with Chris O'Donnell and the pair also had small roles in the Bond film GoldenEye. The next year saw him work with Gwyneth Paltrow in Emma. 1997 was a busy one as he appeared in Romy and Michelle's High School Reunion with Lisa Kudrow and Mira Sorvino, then in For My Baby and the Spice Girls' flick, SpiceWorld.
Cumming then took to the Broadway stage in 1998 for Cabaret, playing the Emcee again to great acclaim opposite Natasha Richardson. After earning a Tony Award for Cabaret, Alan was then seen in Eyes Wide Shut, the Stanley Kubrick film that starred then husband and wife Tom Cruise and Nicole Kidman. He kept busy for the next two years, with roles in 2000's The Flintstones in Viva Rock Vegas, Company Man, and the Sylvester Stallone version of Get Carter. 2001 then saw him in Spy Kids with Antonio Banderas, Josie and the Pussycats and The Anniversary Party starring Jennifer Jason Leigh, Phoebe Cates and Kevin Kline.
The next year saw Cumming return to the sequel of Spy Kids with Spy Kids 2: The Island of Lost Dreams and playing Mr. Folair in Nicholas Nickleby. He played the role of the teleporting Nightstalker in 2003's X-2 with Hugh Jackman, Halle Berry and Patrick Stewart and then leaped from the screen in Spy Kids 3-D: Game Over. He followed that with 2004's Eighteen.
A busy 2005 saw him in Reefer Madness: The Movie Musical with Kristen Bell, Neve Campbell and Christian Campbell, Son of the Mask with Jamie Kennedy, Bad Blood, Neverwas, Bam Bam and Celeste, Sweetland and Ripley under Ground. In 2006, he had a recurring role on The L Word and more recently he voiced Chuck in Rick & Steve the Happiest Gay Couple in All the World and played Glitch in the mini-series Tin Man.
As time progresses, we'll have more info about Alan Cumming here. If you have any comments or suggestions about our coverage, please email us.