Tobey Maguire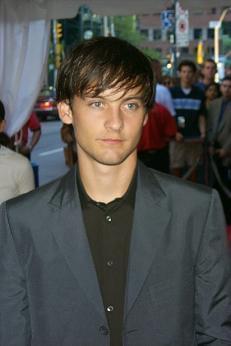 Check out our Tobey Maguire photo gallery.
Born: June 27, 1975 Santa Monica, California, USA
[Please note that we are recovering from a bad database backup and some of our bio entries might be a bit stale. We are baking up a fresh batch as soon as possible.]
Tobey was born on June 27, 1975 in Santa Monica, California. After his mother convinced him to take drama classes, the young Maguire started doing commercials, appearing in spots for Doritos and McDonald's. When he was just thirteen, he was able to earn his actor's union card by landing a small part in an HBO special, On Location With Rodney Dangerfield: Opening Night at Rodney's Place.
He started making guest shots on TV and while auditioning for the TV version of Ron Howard's Parenthood, he went up against Leonardo DiCaprio. Leo won the role, but he and Maguire became friends. In 1992, Tobey had the lead in a Fox series, Great Scott!, which was a quirky look at a teenager's life. The show was aired a mere six times before being yanked, but Maguire did receive good critical notices for the role.
He made his feature-film debut in 1993, appearing with DiCaprio in This Boy's Life. He made a couple of TV movies after that, as well a a direct-to-video piece of schlock with Mickey Rooney called Revenge of the Red Baron. When an appearance in Empire Records was cut out, Maguire was definitely in a slump.
Of course, working with some great directors can help put the bounce in your step again. 1997 was the year that Tobey did that, earning himself raves for his work in Woody Allen's Deconstructing Harry and Ang Lee's The Ice Storm. Around this time DiCaprio's fame was at its Titanic peak and he and Maguire found themselves in the news for their involvement with a indie film Don's Plum. Word had it that the two didn't want the film released and were using their clout to prevent it seeing the inside of a theater. The producer sued the pair for $10 million dollars. It was eventually settled out of court in 1999. Monetary details were not released, but the film will not be distributed in North America.
Back on screen, Tobey had a cameo in Terry Gilliam's Fear and Loathing in Las Vegas, but made a huge impression with his starring role in the charming Pleasantville. In 1999, good buzz again surrounded Maguire for his roles in Ride with the Devil and The Cider House Rules. Some people questioned whether he would be a believable action star, but the success of 2002's Spider Man seemed to put that to rest.
Maguire played jockey Red Pollard in 2003's Seabiscuit, a film that reunited him with Pleasantville director Gary Ross. The next year, he slipped on the Spidey suit again for 2004's Spider-Man 2. He teamed up with George Clooney and Cate Blanchett in 2006's The Good German, before slinging webs again in 2007's Spider-Man 3.
As time progresses, we'll have more info about Tobey Maguire here. If you have any comments or suggestions about our coverage, please email us.