Anne Hathaway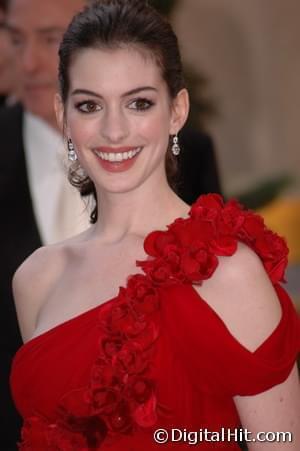 Check out our Anne Hathaway photo gallery.
Born: Nov. 12, 1982 Brooklyn, New York, USA
[Please note that we are recovering from a bad database backup and some of our bio entries might be a bit stale. We are baking up a fresh batch as soon as possible.]
Anne Jacqueline Hathaway was born November 12, 1982 in Brooklyn, New York. She was encouraged by her mother, an actress herself, to pursue her creative side. Her talent as a teen brought her to the attention of, and enrollment with, the Barrow Group Theater Company in New York City. Hathaway also performed at Carnegie Hall as a soprano as part of the All Eastern U.S. High School Honors Chorus. It was that performance that garnered her much attention and the result was a role on the television drama Get Real in 1999. That show only lasted a season and Hathaway returned to high school and graduated with her classmates. She then enrolled at Vassar College, then transferred to New York University where she studied acting.
She became very well known to audiences, especially the young ones, when she was cast as Mia Thermopolis in 2001's The Princess Diaries. She played a girl who discovered that she is a princess after her father dies and gets groomed to be royalty by her grandmother, played by Julie Andrews. Also that year, Hathaway starred in The Other Side of Heaven which didn't do as well as The Princess Diaries. In 2002, she was in Nicholas Nickleby and followed that up with The Princess Diaries 2: Royal Engagement and Ella Enchanted in 2004.
Hathaway, not wanting to be stereotyped and cast into every family movie that got released, started taking on more adult roles. In 2005, she played a wealthy teenager who mixes with a Latin gang in East LA in the film Havoc with Bijou Phillips and Freddy Rodriquez. She also played the suspicious wife of Jake Gyllenhaal in Brokeback Mountain, which also starred Heath Ledger and Michelle Williams.
She then went on to star in 2006's The Devil Wears Prada, where she played an assistant to Meryl Streep's Anna Wintour-esque magazine editor. Hathaway then played the younger version of author Jane Austen in Becoming Jane in 2007 opposite James McAvoy. She then won the role of Agent 99 in the television remake of Get Smart starring Steve Carrel in 2008.
Her private life hit the news in 2008, when she split from boyfriend Raffaello Follieri shortly before the Italian businessman was arrested for an alleged investment fraud scheme.
As time progresses, we'll have more info about Anne Hathaway here. If you have any comments or suggestions about our coverage, please email us.