Amy Adams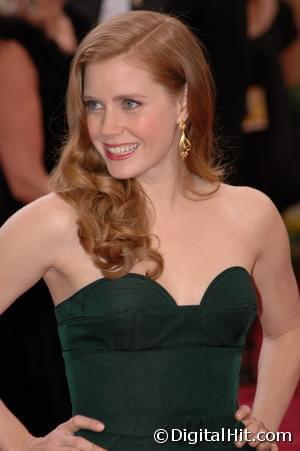 Check out our Amy Adams photo gallery.
Born: Aug. 20, 1974 Aviano, Pordenone, Italy
[Please note that we are recovering from a bad database backup and some of our bio entries might be a bit stale. We are baking up a fresh batch as soon as possible.]
Amy Adams was born August 20, 1974 at a U.S. military base in Aviano, Pordenone, Italy. Raised in Castle Rock, Colorado, Adams made her feature film debut in 1999's Drop Dead Gorgeous which starred Kirstie Alley, Denise Richards and Kirsten Dunst. She followed that with a spoof on beach blanket movies and slasher flicks, Psycho Beach Party, which also starred Lauren Ambrose and Thomas Gibson. Guest starring roles in TV shows followed, including That 70's Show, Charmed, Providence, Buffy The Vampire Slayer and Smallville.
The year 2002 was a busy one for Adams with the releases of The Slaughter Rule starring Ryan Gosling, Clea DuVall and David Morse, Pumpkin with Christina Ricci, Serving Sara starring Matthew Perry and Elizabeth Hurley and Catch Me If You Can starring Leonardo DiCaprio and Tom Hanks. In 2004, Amy starred in The Last Run with Fred Savage. The next year, she appeared in The Wedding Date with Debra Messing and Dermot Mulroney but it was her role in that year's Junebug that would earn Adams critical praise and an Oscar nomination for best supporting actress.
She then worked as Will Ferrell's loyal assistant in 2006's Talladega Nights: The Ballad of Ricky Bobby, holding her own against the comic performances of John C. Reilly, Leslie Bibb and Gary Cole. She was also seen in The Ex with Zach Braff, Amanda Peet, Jason Bateman and Charles Grodin.
In 2007, Adams played a princess in Enchanted. The film, which costarred Patrick Dempsey, James Marsden and Julie Andrews, earned her a Golden Globe nomination. She ended the year playing Tom Hanks' Congressional assistant in Charlie Wilson's War with Philip Seymour Hoffman and Julia Roberts.
In 2008, Adams starred in Miss Pettigrew Lives for a Day with Frances McDormand and Doubt with Meryl Streep and Philip Seymour Hoffman. In 2009, she starred in Sunshine Cleaning with Emily Blunt and Alan Arkin and with Meryl Streep in Julie & Julia.
The following year, Adams appeared with Matthew Goode in Leap Year and opposite Mark Wahlberg, Christian Bale and Melissa Leo in The Fighter. The latter role earned her Supporting Actress nominations from the Academy Awards, Golden Globes and SAG Awards.
In 2011, Amy starred in The Muppets with Jason Segel..and of course, Kermit and Miss Piggy.
As time progresses, we'll have more info about Amy Adams here. If you have any comments or suggestions about our coverage, please email us.