John Krasinski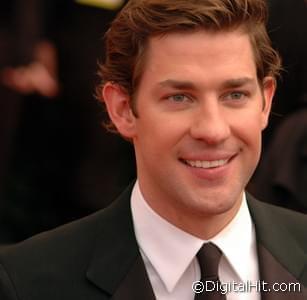 Check out our John Krasinski photo gallery.
Born: Oct. 20, 1979 Newton, Massachusetts, USA
[Please note that we are recovering from a bad database backup and some of our bio entries might be a bit stale. We are baking up a fresh batch as soon as possible.]
John Burke Krasinski was born on October 20, 1979 in Newton, Massachusetts. Krasinski's first taste of acting came in high school when he performed with then classmate, B.J. Novak, who would later co-star with him in The Office. After graduating high school in 1997, Krasinski enrolled in the dramatic arts department at Brown University in Providence, Rhode Island. He graduated as an honors playwright in 2002. He then went on to study at the National Theater Institute.
His first taste of television came with being a script intern on Late Night with Conan O'Brien in 1993. He would then land guest starring roles on Ed, Law & Order: Criminal Intent, CSI: Crime Scene Investigation and Without a Trace.
He would also land film roles in Kinsey, which starred Liam Neeson, Laura Linney and Peter Sarsgaard, Taxi with Queen Latifah and Jimmy Fallon and Jarhead with Jake Gyllenhaal.
John struck comedy gold in 2005 when he was cast in NBC's The Office. Based on the British comedy created by Ricky Gervais, it was an instant hit in the US and won many accolades since its inception. The comedy, which co-starred Steve Carrell, former classmate BJ Novak, Rainn Wilson and Jenna Fischer, became a staple on the NBC Thursday night lineup.
2006 was a busy year for Krasinski, working on Doogal, For Your Consideration (starring Christopher Guest and Eugene Levy), The Holiday with Cameron Diaz, Jack Black, Jude Law and Kate Winslet, Dreamgirls which starred Beyoncé Knowles, Jennifer Hudson, Jamie Foxx and Eddie Murphy and a voice stint on FAX's American Dad! cartoon.
2007 was an impressive follow up with roles in A New Wave, Smiley Face, Shrek the Third and a starring role in License to Wed opposite Mandy Moore and Robin Williams. In 2008, he co-starred with George Clooney and Renée Zellweger in the 1920s-based comedy Leatherheads where he played a war hero/football star with a secret about his past.
As time progresses, we'll have more info about John Krasinski here. If you have any comments or suggestions about our coverage, please email us.