Amanda Seyfried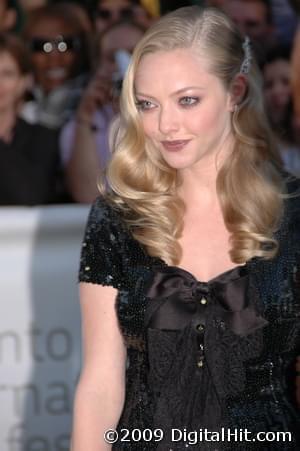 Check out our Amanda Seyfried photo gallery.
Born: Dec. 3, 1985 Allentown, Pennsylvania, USA
[Please note that we are recovering from a bad database backup and some of our bio entries might be a bit stale. We are baking up a fresh batch as soon as possible.]
Amanda Michelle Seyfried was born on December 3rd, 1985 in Allentown, Pennsylvania. She took an early interest in performing, taking singing lessons when she was eleven years old and beginning to model.
Amanda won her first role in 2000, landing a role on the soap opera As the World Turns while she was still in high school. That was followed in 2002 by a role on All My Children. Schoolgirls would have also recognized her from the cover of three Sweet Valley High books written by Francine Pascal.
After high school, she was accepted to Fordham University in New York, but that was put on hold when she won the role of Karen Smith, the dim member of the Plastics, in 2004's Tina Fey-penned Mean Girls with Lindsay Lohan, Rachel McAdams and Lacey Chabert. That same year, she also landed a recurring role on the TV series Veronica Mars.
In 2005, she was seen in Nine Lives with Robin Wright Penn and Holly Hunter and American Gun with Marcia Gay Harden and Forest Whitaker. The next year, she was seen in Alpha Dog with Vincent Kartheiser and Bruce Willis, had a recurring role in Wildfire and landed a regular role in the HBO series Big Love with Bill Paxton, Chloë Sevigny, Jeanne Tripplehorn and Ginnifer Goodwin.
In 2008, she was seen in the movie version of the stage hit Mamma Mia!, where she played Meryl Streep's daughter Sophie, who tries to figure out who out of Pierce Brosnan, Colin Firth and Stellan Skarsgård is her father. That same year she was seen in Official Selection. That was followed by 2009's Boogie Woogie and Jennifer's Body opposite Megan Fox.
As time progresses, we'll have more info about Amanda Seyfried here. If you have any comments or suggestions about our coverage, please email us.