Megan Fox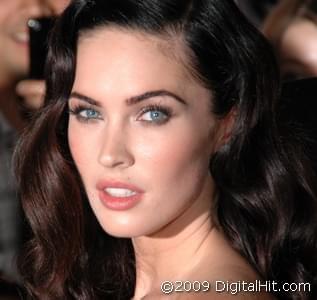 Check out our Megan Fox photo gallery.
Born: May 16, 1986 Rockwood, Tennessee, USA
[Please note that we are recovering from a bad database backup and some of our bio entries might be a bit stale. We are baking up a fresh batch as soon as possible.]
Megan Denise Fox was born on May 16, 1986, in Rockwood, Tennessee. She took an early interest in acting and dancing and by the time she was in high school, she was modeling as well. After a series of wins at the American Modeling and Talent Convention, Fox decided to strike while the iron was hot and go after her acting career.
Fox's first role was that of a bratty heiress in one of Mary-Kate and Ashley Olsen's straight-to-video projects, Holiday in the Sun. Moving to Los Angeles at the age of 16, Megan soon found herself on the Swedish-produced syndicated soap opera Ocean Ave., which ran from 2002-2003.
She then played a rival to Lindsay Lohan in 2004's Confessions of a Teenage Drama Queen. She landed a recurring role in The Help, made the TV movie Crimes of Fashion and then replaced Nicole Paggi in the role of Sydney Shanowski in the ABC series Hope & Faith with Faith Ford and Kelly Ripa.
In 2007, she starred in every geek's dream with a role in the film Transformers with Shia LaBeouf and Josh Duhamel. The attention from that role, combined with the attention from scantily-clad pictorials in magazines like FHM and Maxim, rocketed Fox to the top tier of tabloid and paparazzi targets.
In 2008, she was seen in How to Lose Friends & Alienate People with Simon Pegg and Gillian Anderson and Whore with Ron Jeremy, Brad Rowe and Rumer Willis. In 2009, she returned to the big screen In the big budget Transformers: Revenge of the Fallen and Jennifer's Body with Amanda Seyfried, Adam Brody and Johnny Simmons.
In 2010, Megan appeared in two critically-slammed films, Jonah Hex with Josh Brolin and John Malkovich and Passion Play with Mickey Rourke and Bill Murray. The following year, she appeared with Adam Scott, Kristen Wiig and Jon Hamm in Jennifer Westfeldt's Friends with Kids.
Fox, who married actor Brian Austin Green in 2010, gave birth to a son, Noah Shannon Green, in September 2012.
As time progresses, we'll have more info about Megan Fox here. If you have any comments or suggestions about our coverage, please email us.