Adrien Brody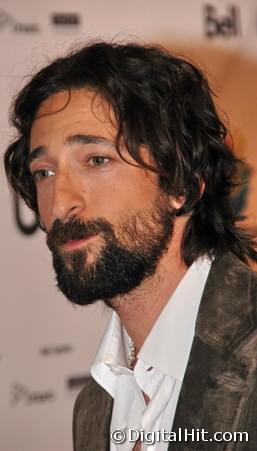 Check out our Adrien Brody photo gallery.
Born: Apr. 14, 1973 New York, New York, USA
[Please note that we are recovering from a bad database backup and some of our bio entries might be a bit stale. We are baking up a fresh batch as soon as possible.]
Adrien Brody was born in New York on April 14th, 1973. The acting bug bit early and Brody was able to enroll in the American Academy of Dramatic Arts' youth program partly due to his mother, photographer Sylvia Plachy, who had a commission to shoot there.
Adrien made his professional acting debut in the Off-Broadway play Family Pride in the '50s and his TV debut in 1988's PBS drama Home at Last. That same year he also managed to land the role of Mary Tyler Moore's stepson in her short-lived CBS sitcom Annie Maguire. Onscreen, he appeared in 1989's New York Stories but finally earned some notice in the 1993 film King of the Hill.
Film work kep Brody busy as he appeared in Angels in the Outfield, Jailbreakers and Solo. His 1996 Sundance Film Festival performance in Nothing to Lose earned him critical praise, but battles over the title delayed its release until 1998 under the moniker Ten Benny. During that time he also appeared in Bullet (with Mickey Rourke) and The Last Time I Committed Suicide. Teaming again with Ten Benny's director Eric Bross, Brody earned more kudos for his work in 1998's Restaurant.
There was a lot of buzz surrounding Brody's work in Terrence Malick's highly-anticipated WWII drama The Thin Red Line, but the post-editing reality of the released film left much of his work on the floor. That didn't slow Brody down, however, and he continued to hone his craft in Spike Lee's Summer of Sam, Barry Levinson's semi-autobiographical Liberty Heights and Kenneth Loach's Bread and Roses. He worked opposite Hilary Swank in 2001's The Affair of the Necklace and caught the attention of Roman Polanski, who cast him in The Pianist. That role earned him several nominations including the Golden Globes and Oscars. Adrien won the Best Actor Oscar® for The Pianist at the 75th Academy Awards.
In 2003, Brody appeared in The Singing Detective (opposite Robert Downey Jr., Mel Gibson and Katie Holmes) then worked with Joaquin Phoenix on M. Night Shyamalan's The Village.
In 2005, Adrien worked with Keira Knightley on The Jacket and then with Jack Black and Naomi Watts in Peter Jackson's remake of King Kong.
He then appeared with Ben Affleck in Hollywoodland. 2007 was a busy year for Brody as he racked up screen time in Manolete and The Darjeeling Limited and narrated The Tehuacan Project.
As time progresses, we'll have more info about Adrien Brody here. If you have any comments or suggestions about our coverage, please email us.