Paul Bettany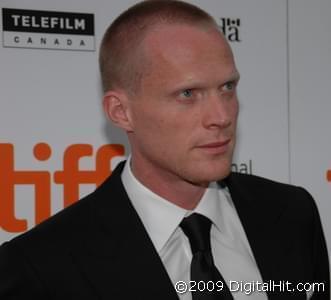 Check out our Paul Bettany photo gallery.
Born: May 27, 1971 London, England, UK
[Please note that we are recovering from a bad database backup and some of our bio entries might be a bit stale. We are baking up a fresh batch as soon as possible.]
Paul Bettany was born on May 27th, 1971 in Harlesden, London, England, UK. No stranger to the world of performance, with his dad a ballet dancer and actor and his mother a singer and stage performer, Paul found his influence early. When he was sixteen years old, he left high school and performed as a busker for two years. He was working at an old age home when he decided to enroll at the Drama Centre for three years.
His career started onstage. His first production was An Inspector Calls and he followed that with time at the Royal Shakespeare Company. In 1994, he made his television debut with a guest starring role in the series Wycliffe. He made a few more guest starring roles before appearing in the 1997 TV movie Sharpe's Waterloo and making his feature film debut in Bent with Clive Owen and Ian McKellen. In 1998, Paul was in The Land Girls with Catherine McCormack and Rachel Weisz and the TV movies Coming Home and Killer Net. He finished off the Nineties with 1999's After the Rain.
He became busy in 2000 appearing in Kiss Kiss (Bang Bang) with Stellan Skarsgård and Chris Penn, The Suicide Club with Jonathan Pryce and David Morrissey, Gangster No. 1 with Malcolm McDowell and David Thewlis, Dead Babies and playing James Steerforth in the TV movie David Copperfield with Hugh Dancy and Michael Richards.
In 2001, he played opposite Heath Ledger and Rufus Sewell in A Knight's Tale and played a figment of Russell Crowe's imagination in A Beautiful Mind, where he met his future wife, actress Jennifer Connelly. In 2002, he was seen in The Heart of Me with Helena Bonham Carter and Olivia Williams and had a busy 2003 with Dogville with Nicole Kidman and Chloë Sevigny, The Reckoning with Willem Dafoe and Vincent Cassel and Master and Commander: The Far Side of the World again with Crowe and James D'Arcy.
In 2004, Bettany was in Euston Road and played tennis opposite Kirsten Dunst in the romantic comedy Wimbledon. A couple of years, later in 2006, he was in Stories of Lost Souls, Firewall with Harrison Ford and Virginia Madsen and The Da Vinci Code with Tom Hanks and Audrey Tautou. In 2008, he was heard as the voice of Jarvis in Iron Man with Robert Downey Jr. and Gwyneth Paltrow, appeared in Broken Lines with Olivia Williams and Dan Fredenburgh, was in Inkheart with Brendan Fraser and worked on The Secret Life of Bees starring Dakota Fanning and Queen Latifah.
In 2009, he book-cased the 34th Toronto International Film Festival, appearing in the opening film Creation playing Charles Darwin opposite wife Jennifer Connelly, Jeremy Northam and Toby Jones and in the closing film The Young Victoria with Emily Blunt and Jim Broadbent.
On the personal side, Paul married actress Jennifer Connelly in 2003. They have one child.
As time progresses, we'll have more info about Paul Bettany here. If you have any comments or suggestions about our coverage, please email us.