Javier Bardem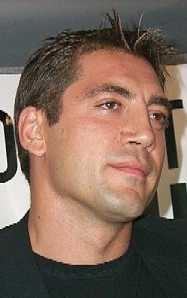 Check out our Javier Bardem photo gallery.
Born: Mar. 1, 1969 Las Palmas de Gran Canaria, Gran Canaria, Spain
[Please note that we are recovering from a bad database backup and some of our bio entries might be a bit stale. We are baking up a fresh batch as soon as possible.]
When the Golden Globe nominations for 2000 were announced, Javier Bardem was among the men being considered for Best Actor in a Drama for his role in Before Night Falls. As many felt the film was one of the year's 10 best, they applauded the nomination, while less frequent filmgoers said "Javier who?"
Like Antonio Banderas before him, Javier had a lengthy and distinguished career in his native Spain before he made his North American debut. Hopefully his performance in Before Night Falls will induce some to head to the video store and look at his earlier work.
Javier was born on March 1st, 1969 in Las Palmas de Gran Canaria, Gran Canaria, Spain. Movies flow through the blood of his family. His brother and sister Carlos and Mónica are both in the business. His mother is actress Pilar Bardem, his uncle is director Juan Antonio Bardem and he's the grandson of actor Rafael Bardem. Anyone asking why he's not an accountant?
He first gained international attention for his work in 1992's Jámon, jámon by JJ Bigas Luna, a film that landed him awards from the Spanish Actors Union, Fotogramas, and Saint Jordi. In 1993 he was presented a Special Award by the jury of the San Sebastian Film Festival. In 1994, his work earned him more accolades including the Fernando Rey Award, the Spanish Actors Union, the Punta del Este Festival in Uruguay, and San Sebastian.
A year later he won his first Goya for best supporting actor for his performance in Imanol Uribe's Días contados. Another Goya followed in 1996 when he won Best Actor for Boca a boca (Mouth to Mouth), directed by Manuel Gómez Pereira. In 1998 the Berlin Film Festival gave Bardem the Public's Award for Best European Actor, for his work in Perdita Durango. He was also recognized by Fotogramas that same year for his performance in Live Flesh (Carne trémula), which marked his second collaboration with Pedro Almodóvar, after first working with the celebrated director on 1991's High Heels (Tacones Lejanos). Bardem's performance in Live Flesh also earned him a third Goya nomination as well as the Audience Award for Best Actor at the European Film Awards.
He won the Best Actor Award (the Volpi Cup) at the Venice Film Festival for his performance as Reinaldo Arenas in Before Night Falls, the role which also earned him his Golden Globe nomination.
2002 saw Javier in John Malkovich's directorial debut,The Dancer Upstairs (Pasos de baile). That same year he also appeared in Los Lunes al sol (Mondays in the Sun). In 2004, he appeared with Jamie Foxx and Tom Cruise in Collateral and earned award season buzz for his lead performance in Mar adentro (The Sea Inside).
In 2006, Javier appeared in Milos Forman's Goya's Ghosts opposite Natalie Portman. He then played a psychotic hitman in the 2007 Coen Brothers' film No Country for Old Men, which also starred Tommy Lee Jones and Josh Brolin. That same year, he appeared in Love in the Time of Cholera.
Javier had critical raves for his No Country for Old Men role and it earned him an Oscar®, a BAFTA, a Golden Globe and several critics' awards.
In 2008, he appeared in the Woody Allen film Vicky Cristina Barcelona with Penélope Cruz and Scarlett Johansson.
As time progresses, we'll have more info about Javier Bardem here. If you have any comments or suggestions about our coverage, please email us.