Elizabeth Banks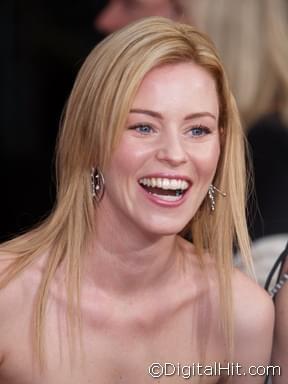 Check out our Elizabeth Banks photo gallery.
Born: Feb. 10, 1974 Pittsfield, Massachusetts, USA
[Please note that we are recovering from a bad database backup and some of our bio entries might be a bit stale. We are baking up a fresh batch as soon as possible.]
Elizabeth Maresal Mitchell was born on February 10th, 1974 in Pittsfield, Massachusetts. Banks first love was sports and was probably the path she would have taken if not for the broken leg she suffered sliding into third base at a softball game. She then looked into theatre at her school and got hooked.
After graduation, she attended the University of Pennsylvania graduating Magna Cum Laude in 1996 with a BA. During university she met her future husband, Max Handelman. The pair would marry in 2003.
In 1998, Banks made the big move to New York and began landing guest-starring appearances in Third Watch, Sex and the City, and Law & Order: Special Victims Unit. She also landed film roles in 2000's Shaft and 2001's Wet Hot American Summer and Ordinary Sinner. It was during this time that she changed her last name from Mitchell to Banks because there was already a working actress named Elizabeth Mitchell in the actors' union. She also made another big move, this time to Hollywood.
2002 was a busy year for the newly-named Elizabeth Banks as she landed roles in Spider-Man with Tobey Maguire and Kirsten Dunst, the disappointing remake of Swept Away directed by Guy Ritchie and starring his wife Madonna, and Catch Me If You Can with Tom Hanks and Leonardo DiCaprio.
In 2003, she starred in The Trade and Seabiscuit with Jeff Bridges and Tobey Maguire. More work with Maguire followed with 2004's Spider-Man 2, where she reprised her role as Miss Brant. Another busy year followed in 2005 with the releases of Heights, Sexual Life, The Sisters (with Maria Bello and Erika Christensen), The Baxter, Daltry Calhoun and The 40 Year Old Virgin with Steve Carell. In 2006, she worked with Mark Wahlberg and Greg Kinnear on Invincible and also began a recurring role as one of Zach Braff's love interests on Scrubs.
In 2007, she was seen in Spider-Man 3, as well as Bill with Aaron Eckhart and Fred Claus with Vince Vaughn, Paul Giamatti and Rachel Weisz. 2008 saw her work with Ryan Reynolds, Rachel Weisz, Isla Fisher and Abigail Breslin in the romantic comedy Definitely, Maybe, with Eddie Murphy on Meet Dave, and with Seth Rogen on Kevin Smith's Zack and Miri Make a Porno.
As time progresses, we'll have more info about Elizabeth Banks here. If you have any comments or suggestions about our coverage, please email us.