Toni Collette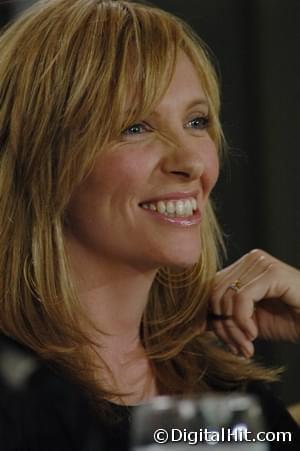 Check out our Toni Collette photo gallery.
Born: Nov. 1, 1972 Sydney, New South Wales, Australia
[Please note that we are recovering from a bad database backup and some of our bio entries might be a bit stale. We are baking up a fresh batch as soon as possible.]
Antonia Collette was born on November 1, 1972, in Sydney, New South Wales, Australia. Her early career took her to the stage in Godspell and Toni was working with the Australian Theatre for Young People before attending the National Institute of Dramatic Art.
After appearing in many theatre productions, Collette made her film debut in 1992's Spotswood starring Anthony Hopkins and Russell Crowe. Collette then gained 40 pounds for a role that would garner her world wide attention a critical acclaim, 1994's Muriel's Wedding.
1996 was a busy year for Collette as she released Cosi with Rachel Griffiths, The Pallbearer starring Gwyneth Paltrow and David Schwimmer, Lilian's Story, and Emma starring Paltrow, Alan Cumming and Greta Scacchi.
Collette spent the next couple of years showing up in Clockwatchers, with Parker Posey and Lisa Kudrow, The James Gang, Diana & Me, The Boys, Velvet Goldmine (with Ewan McGregor, Jonathan Rhys Meyers, Christian Bale and Eddie Izzard) and 8 ½ Women.
It was 1999's The Sixth Sense that reminded the mainstream audience what a great actress she is and gave Collette her first Academy Award nomination. The film, directed by M. Night Shyamalan, also starred Haley Joel Osment and Bruce Willis. She next appeared in the remake of Shaft opposite Samuel L. Jackson, Vanessa L. Williams, Christian Bale, Jeffrey Wright and Busta Rhymes. That was followed by Hotel Splendide with Daniel Craig and the TV movie Dinner with Friends starring Andie MacDowell, Greg Kinnear and Dennis Quaid.
Collette kept busy in 2002, as Toni appeared in Changing Lanes with starring Samuel L. Jackson and Ben Affleck, About a Boy with Hugh Grant, Dirty Deeds with Bryan Brown and Sam Neill and The Hours opposite Meryl Streep, Julianne Moore and Nicole Kidman. She starred in the Australian film Japanese Story and followed that with 2004's Connie and Carla with Nia Vardalos and The Last Shot starring Alec Baldwin and Matthew Broderick.
In 2005, Toni starred alongside Cameron Diaz and Shirley MacLaine in In Her Shoes. The next year again was a busy one for Collette releases starting with The Night Listener with Robin Williams, the independent hit Little Miss Sunshine starring Steve Carrell, Greg Kinnear, Alan Arkin and Abigail Breslin, Like Minds, The Dead Girl with Giovanni Ribisi and the TV movie Tsunami: The Aftermath. In 2007, she starred in Evening with Claire Danes and Vanessa Redgrave and Nothing is Private with Aaron Eckhart.
In 2008, Toni starred in the Aussie flicks The Black Balloon and Hey Hey It's Esther Blueburger. In 2009, she began work on the series United States of Tara which was created by __Juno__-writer Diablo Cody.
Toni, who is also a singer, married musician Dave Galafassi in 2003. They welcomed their first child, daughter Sage Florence Galafassi, in January of 2008.
As time progresses, we'll have more info about Toni Collette here. If you have any comments or suggestions about our coverage, please email us.