Leonardo DiCaprio
Check out our Leonardo DiCaprio photo gallery.
Born: Nov. 11, 1974 Hollywood, California, USA
[Please note that we are recovering from a bad database backup and some of our bio entries might be a bit stale. We are baking up a fresh batch as soon as possible.]
Leonardo DiCaprio. The handsome young man who single-handedly turned Titanic from a tragic maritime disaster into a swooning love story has directly or indirectly been involved in some disasters
His role in The Beach was a public relations disaster, with environmental groups protesting the movie's treatment of a beach on Thailand's Phi Phi Lei Island. They claimed the production bulldozed large areas of the beach, speeding erosion, and introducing non-native vegetation. Leo also faced an accident when the boat he was filming on capsized. Needless to say no one missed making Titanic references. The film need a life jacket badly as it sunk off the box office charts rapidly.
Besides the environmental concerns surrounding The Beach, Leo also became embroiled in some more environmental controversy. He was the spokesperson for the 2000 Earth Day and as part of an ABC special, he ending up interviewing President Clinton. Established journalists were dismayed that an actor would be allowed to do something they believed was on their turf.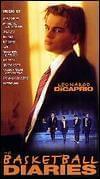 Indirectly, Leonardo also found himself involved in two stories involving high school shootings. His film The Basketball Diaries was involved in a $130 million lawsuit brought against Time Warner, Polygram Films, and five other corporations by the parents of three teens killed in a December 1997 shooting spree at a Kentucky high school. They blamed a scene in the film where DiCaprio's stoned character imagines himself gunning down his teacher and classmates. The film has also been brought up by people talking about the Columbine High School killings in Littleton, Colorado.
The bad press has haunted DiCaprio since his performance in Titanic. Though he was the world's heartthrob, many felt he was being petulant not appearing at the Academy Awards®, where he didn't receive a nomination.
Still, while some complain, many applaud his career choices. He's the Academy Award® nominated co-star of What's Eating Gilbert Grape. The actor who turned down the part of Robin in Batman Forever and instead chose challenging roles in Romeo + Juliet, The Basketball Diaries and, well, Critters 3.
Leonardo was nominated for a Golden Globe in 2002 for his performance in Catch Me If You Can.
In 2004, Leo teamed up with Martin Scorsese again to portray Howard Hughes in The Aviator.
As time progresses, we'll have more info about Leonardo DiCaprio here. If you have any comments or suggestions about our coverage, please email us.