Will Smith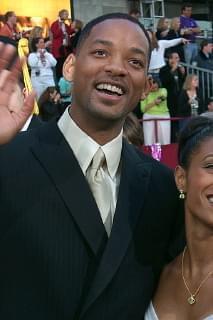 Check out our Will Smith photo gallery.
Born: Sept. 25, 1968 Philadelphia, Pennsylvania, USA
[Please note that we are recovering from a bad database backup and some of our bio entries might be a bit stale. We are baking up a fresh batch as soon as possible.]
One of the most likeable stars around, Will Smith is able to bring an easygoing style to his work whether he's appearing in a comedy or an action film.
Besides being an actor, Will is also a Grammy-winning rap artist and a darn good dancer to boot. He first got into the business by rapping around West Philadelphia as the fresher half of DJ Jazzy Jeff and the Fresh Prince. In only a few years of working together the two had released two platinum albums and won a Grammy for He's the DJ, I'm the Rapper, which gave birth to the crossover single Parents Just Don't Understand.
Will was a natural in the videos and when he made some noises that he'd like to try acting, it didn't take long for a door to open. Warner Bros. executive Benny Medina, who had been born poor but was raised by a rich Beverly Hills family, was pitching his life story to NBC. Will read for the Medina-inpired role and The Fresh Prince of Bel Air hit the airwaves in 1990. The show further highlighted Smith's gift for comedy and the show ran for six successful years.
The show's success allowed Will to pay of his debts to the taxman, the result of his rapid rise to millionaire status before he was 18. It also introduced him to Quincy Jones, a connection any young star would do well to have. By 1993, Will was ready for his first starring role in a feature and he received critical praise for his work in Six Degrees of Separation. Two years would go by before Smith tested the movie waters again. This time he teamed up with another sitcom actor, Martin Lawrence, in the action comedy Bad Boys. The film did very well at the box office and Smith, now with a price of $5 million a flick, chose the role of the fighter pilot in the smash hit Independence Day.
Though Smith was doing well at the box office, he wasn't doing so well on the home front. His three year marriage to Sheree Zampino fell apart and he gave up custody of their son, Will Smith III.
1997 was a much happier year for Smith. He starred in the summer hit Men in Black. He hadn't recorded for a while but the Men in Black single inspired him to enter the studio again and Big Willie Style hit the charts. Before the year was over his girlfriend Jada Pinkett was expecting their child and the couple tied the knot on New Year's Eve. The summer of 1998 saw Will's second son, Jaden Christopher Syre, introduced to the world. Before 1998 was over Smith picked up several awards for his rap album as well as a further following in the action world when he starred opposite Gene Hackman in Enemy of the State.
Will received critical kudos for his performance in Ali and was nominated for several awards. He then went back to some of his previous hits, releasing Men in Black II and Bad Boys II in 2002 and 2003.
As time progresses, we'll have more info about Will Smith here. If you have any comments or suggestions about our coverage, please email us.