Alan Alda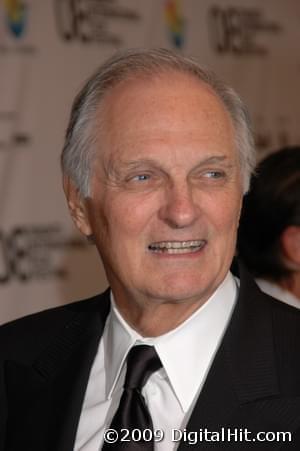 Check out our Alan Alda photo gallery.
Born: Jan. 28, 1936 New York, New York, USA
[Please note that we are recovering from a bad database backup and some of our bio entries might be a bit stale. We are baking up a fresh batch as soon as possible.]
Alphonso Joseph D'Abruzzo was born on January 28th, 1936 in New York City, New York. One of his early performing influences came from his father, Robert, who was an actor and singer best known for playing George Gershwin in Rhapsody in Blue in 1945.
After high school, Alan attended medical school at Fordham University. He changed majors to English when he realized that he was living his father's dream, not his own. While at Fordham, he traveled through Europe with his father performing on stage in Rome and television in Amsterdam. When he returned home, he studied improv at the Cleveland Playhouse and then at The Second City improv troupe in Chicago. He was seen on the stage in The Hot Corner in 1956 and then more notably as Charlie Cotchipee in the Broadway show Purlie Victorious from 1961 to 1962.
Alan made several guest appearance on Sixties shows like The Phil Silvers Show, The Nurses and Route 66. His film debut was in 1963's Gone Are the Days! He was seen on stage again in The Owl and the Pussycat from 1964 to 1965, then followed that up with The Apple Tree from 1966 to 1967. In 1968, he was seen on screen in Paper Lion. The following year, he was in The Extraordinary Seaman. In 1970, Alda appeared in The Moonshine War and in 1971, he was in The Mephisto Waltz.
In 1972, he was in To Kill a Clown with Blythe Danner and was also cast in one of the most influential TV comedies of all time, M*A*S*H, where he played Captain Benjamin Franklin 'Hawkeye' Pierce. The show ran from 1972 to 1983 and Alda, who was the only series regular to appear in all 251 episodes won five Emmy Awards for acting, writing and directing on the series.
During his M*A*S*H run, Alan still had time for TV movies and feature films. In 1978, he was in Same Time, Next Year with Ellen Burstyn and California Suite with Jane Fonda, Michael Caine and Walter Matthau. The next year, he was in The Seduction of Joe Tynan with Meryl Streep and Barbara Harris and in 1981 he wrote, directed and starred in The Four Seasons.
In 1986, Alda went on to direct his second feature, Sweet Liberty, co-starring Michele Pfeiffer and Michael Caine. In 1988, he once again directed and starred in a movie, A New Life, with Ann-Margaret. The next year, he was in Woody Allen's Crimes and Misdemeanors and in 1990 he took to directing and starring in Betsy's Wedding with Molly Ringwald and Ally Sheedy. In 1992, he was in Whispers in the Dark, played Dr. Robert Gallo in the TV movie And the Band Played On with Matthew Modine., and a year later made Manhattan Murder Mystery with Diane Keaton and Woody Allen.
In 1995, Alda played the President of the United States in the Michael Moore film Canadian Bacon. In 1996, he was in Neil Simon's Jake's Women, David O. Russell's Flirting with Disaster with Lily Tomlin and Ben Stiller and Woody Allen's Everyone Says I Love You with Drew Barrymore. The next year, Alda appeared in Murder at 1600 with Wesley Snipes and Mad City with Dustin Hoffman. He worked with Jennifer Aniston in 1998's The Object of My Affection and the following year landed a recurring role on the series ER.
In 2000, Alda joined Mel Gibson and Helen Hunt in What Women Want and then played Senator Arnold Vinick on The West Wing from 2004 to 2006. He played another senator opposite Leonardo DiCaprio's Howard Hughes in 2004's The Aviator. After 2007's Resurrecting the Champ, Alan had a busy year with 2008's Diminished Capacity, Flash of Genius with Greg Kinnear and Nothing But the Truth starring Kate Beckinsale.
In 2009, Alda appeared in several episodes of 30 Rock as Jack Donaghy's liberal biological father. In 2011, he appeared with Ben Stiller and Eddie Murphy in Tower Heist and played Dr. Atticus Sherman in several episodes of The Big C. 2012 saw him opposite Paul Rudd and Jennifer Aniston in Wanderlust.
As time progresses, we'll have more info about Alan Alda here. If you have any comments or suggestions about our coverage, please email us.