Renée Zellweger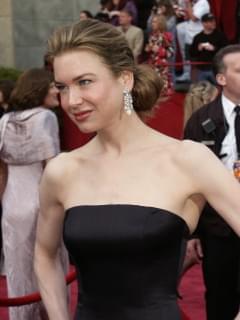 Check out our Renée Zellweger photo gallery.
Born: Apr. 25, 1969 Katy, Texas, USA
[Please note that we are recovering from a bad database backup and some of our bio entries might be a bit stale. We are baking up a fresh batch as soon as possible.]
Renée Zellweger was born in Katy, Texas on April 25th, 1969 to a Swiss-born father and Norweigan-born mother. Renée got the acting bug in high school and continued acting when she went to the University of Texas.
One of the first roles she played was a victim in the 1993 ABC miniseries Murder in the Heartland, a story based on the killing spree of teen Charlie Starkweather. That same year she had a small non-speaking role in Dazed and Confused a film that starred other rising stars like Matthew McConaughey and Ben Affleck. Following that Renée and McConaughey starred in the low-budget sequel The Return of the Texas Chainsaw Massacre which wasn't really seen by audiences until 1997 when it was re-released to capitalize on the success of its stars.
In 1994, Renée had a small role in Reality Bites and her first lead in Love and a .45. She was part of the ensemble cast of 1995's Empire Records and played opposite Vincent D'Onofrio in the 1996 biopic The Whole Wide World.
Then it happened. Later in 1996, Renée beat out some higher=profile actresses to land the part of Tom Cruise's single mother love interest in Cameron Crowe's Jerry Maguire. She was a hit with audiences and critics like Roger Ebert who said that Zellweger's "…lovability is one of the key elements in a movie that starts out looking cynical and quickly becomes a heartwarmer."
Faced with new success, Renée tried her hand at a variety of projects. She played an unhappily married wife in A Price Above Rubies, played daughter to Meryl Streep and William Hurt in 1998's One True Thing, appeared opposite Chris O'Donnell in The Bachelor and worked opposite then-boyfriend Jim Carrey in 2000's Me, Myself & Irene. She wowed critics again in 2000's Nurse Betty, a role that won her a Golden Globe. In 2002, Renée had Oscar® and Golden Globe nominations for her performance in 2001's Bridget Jones's Diary, a role that saw the Texan adopting a British accent. 2002 also saw her play a foster mother in White Oleander and earn another Golden Globe nomination (and subsequent win) for her performance as Roxie Hart opposite Richard Gere and Catherine Zeta-Jones in the musical Chicago.
In 2003, Renée appeared in the romantic comedy Down with Love with Ewan McGregor. She then appeared in Cold Mountain with Nicole Kidman and Jude Law, a role that earned her a Golden Globe for Best Performance by an Actress in a Supporting Role – Motion Picture. The role also earned Renée her first Oscar.
In 2004, Renée lent her voice to the computer animated Shark Tale, which also featured the voice talents of Will Smith and Angelina Jolie. She also reteamed with Colin Firth and Hugh Grant for the sequel Bridget Jones: The Edge of Reason. She then teamed with Russell Crowe for 2005's Cinderella Man.
Zellweger married country singer Kenny Chesney on May 9th, 2005. The couple met at the tsunami telethon in January of that year. Unfortunately, the marriage was annulled on December 20th, 2005.
As time progresses, we'll have more info about Renée Zellweger here. If you have any comments or suggestions about our coverage, please email us.