Ben Affleck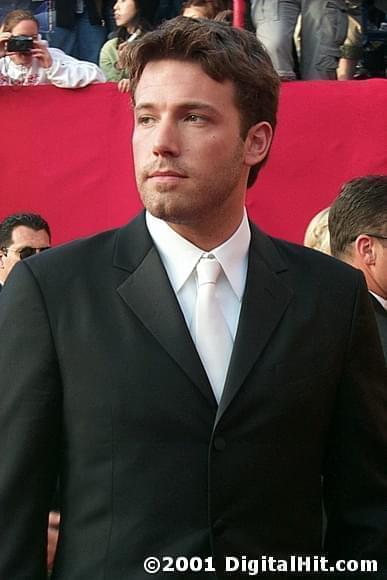 Check out our Ben Affleck photo gallery.
Born: Aug. 15, 1972 Berkeley, California, USA
[Please note that we are recovering from a bad database backup and some of our bio entries might be a bit stale. We are baking up a fresh batch as soon as possible.]
Ben Affleck was born in Berkeley, California on August 15th, 1972. His parents separated soon after and Ben was raised in Cambridge, Massachusetts. The acting bug hit Ben early and he landed his first regular acting gig on the PBS show The Voyage of the Mimi.
Ben's eighth year also marked the first time he met Matt Damon, who lived in the same neighborhood. The two were heavily involved in the drama program at the Cambridge Rindge and Latin School. The pair also did extra work in several films shooting in the Boston area. After leaving high school, Damon headed to Harvard while Affleck decided to try his hand getting more acting gigs. He later did academic stints at the University of Vermont and California's Occidental College.
The siren call of acting kept sounding in his ears. After appearing in the Danielle Steele mini-series Daddy, Ben landed a role in the 1992 movie School Ties which also starred Damon, Chris O'Donnell and Brendan Fraser. In 1993, he played the bully in Richard Linklater's Dazed and Confused, which co-starred Matthew McConaughey, Milla Jovovich, and Parker Posey. 1993 also marked the year that Affleck first stepped behind the lens to direct the short I Murdered My Lesbian Wife, Hung Her on a Meat Hook and Now I've Got a Three-Picture Deal With Disney.
He first teamed with director Kevin Smith in 1995's Mallrats. He continued his indie run, teaming with Damon in both Glory Daze and Chasing Amy, the latter of which teamed him up again with Kevin Smith.
Feeling that they just weren't getting the lead roles they wanted, Damon and Affleck had decided to take matters into their own hands. They penned the script for Good Will Hunting back in 1994. Castle Rock had picked up the rights to the script but the pair weren't too happy when they announced they wanted to do all the shooting in Toronto instead of its Boston setting. The project was iced for a while until indie pal Kevin Smith used his growing clout to convince Miramax's Harvey Weinstein to buy the option from Castle Rock in 1997. Though several of the scenes were still shot in Toronto, Affleck and Damon not only had a film shot in their beloved Boston, they also had the leading roles they had sought.
The publicity machine made as much about the story behind Good Will Hunting as the story in it. The fairy tale proportions only grew as the buddies shared the Golden Globes and Oscars for Best Original Screenplay.
The timing couldn't have been better for the pair. Before Good Will Hunting had been released they had both shot different movies and the golden boys image only drew more attention to Affleck's Armageddon and Damon's Saving Private Ryan when they were released.
Ben followed the explosive Bruce Willis asteroid flick with a quieter, humorous turn in the Oscar®-winning Shakespeare in Love, which also starred his then girlfriend, Gwyneth Paltrow.
He followed that film with a return to his indie roots, appearing in 200 Cigarettes with brother Casey, Kate Hudson and Christina Ricci. 1999 also saw him appear in Forces of Nature with Sandra Bullock and Dogma, which teamed him again with Damon and Smith.
2000 saw him appear in Boiler Room, with Charlize Theron in Reindeer Games and with "are they/aren't they" friend Gwyneth Paltrow in Bounce.
The summer of 2001 kept Ben in the media spotlight. First he started the summer off with all of the media hoopla surrounding the release of Pearl Harbor, which was savaged by the critics. In July, Affleck, whose father is a recovered alcoholic, checked himself into rehab for his own drinking problem. Finally, in August 2001, Jay and Silent Bob Strike Back was released, teaming him up again with Kevin Smith.
In the summer of 2002, Ben was in The Sum of All Fears, playing the Jack Ryan role first played by Alec Baldwin and Harrison Ford.
Jennifer Lopez announced her engagement to Ben in November 2002.
2003 was a busy year for Ben Affeck. He kicked some action butt with Jennifer Garner and Colin Farrell in the comic book actioner Daredevil, bombed badly with fiancée J. Lo in the critical and box office failure Gigli, called off the wedding with J. Lo citing "media fenzy" and ended off the year with the John Woo sci-fi flick Paycheck.
Jennifer Lopez and Ben Affleck called off their engagement in January 2004 but the pair still had to endure more "Bennifer" headlines that year when Lopez had a small role in Kevin Smith's Jersey Girl opposite Ben. Affleck followed that film with yet another stinker, Surviving Christmas.
Outside of the movies, Ben was a constant fixture at Democratic functions during the '04 presidential elections (fueling rumours that he'll someday run for office) and he also found time to woo another Jennifer, as he and Alias' Jennifer Garner became an item. The pair married on June 29th, 2005 and welcomed a daughter, Violet Anne Affleck, on December 1st, 2005.
2006 was a very busy year for Ben, as he appeared in Man About Town, Clerks II, Hollywoodland and Smokin' Aces.
In 2007, Ben received critical acclaim for writing and directing Gone Baby Gone. 2009 saw him in He's Just Not That Into You with Jennifer Aniston, Scarlett Johansson and Drew Barrymore, Extract wih Jason Bateman and State of Play with Russell Crowe, Rachel McAdams and Helen Mirren. January 2009 also saw Affleck and Garner welcome a second daughter, Seraphina Rose.
The following year, Affleck starred with Chris Cooper and Tommy Lee Jones in The Company Men. He also directed, co-wrote and starred in The Town, which also featured Jeremy Renner, Jon Hamm, Rebecca Hall and Blake Lively.
Ben and Jennifer welcomed their son, Samuel, in February of 2012. That same year saw him star in and direct the Iran hostage thriller Argo. The film, which also starred Bryan Cranston, John Goodman and Alan Arkin, went on to win several awards, including Best Picture at both the Academy Awards and Golden Globes. 2012 also saw Ben work with Olga Kurylenko, Rachel McAdams and Javier Bardem in Terrence Malick's To the Wonder.
The next year, Affleck starred in Runner Runner opposite Justin Timberlake and Gemma Arterton, while 2014 saw him starring in Gone Girl with Rosamund Pike.
Affleck and Jennifer Garner announced on June 30th, 2015 that they would be ending their 10-year marriage.
As time progresses, we'll have more info about Ben Affleck here. If you have any comments or suggestions about our coverage, please email us.