Richard Gere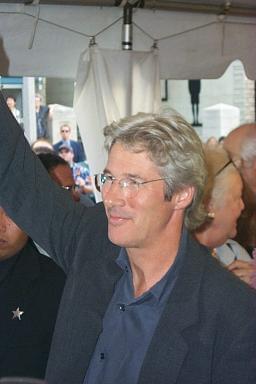 Check out our Richard Gere photo gallery.
Born: Aug. 31, 1949 Philadelphia, Pennsylvania, USA
[Please note that we are recovering from a bad database backup and some of our bio entries might be a bit stale. We are baking up a fresh batch as soon as possible.]
Richard Gere's career as an actor has seen him star in some big hits interspersed with some very loud flops.
Gere was born on August 31st, 1949 in Philadelphia, Pennsylvania. In the early 1970s he combined his love for acting and music when he landed a role in the stage musical Grease, playing the role of Danny Zuko in both New York and London. While still working on the stage, Richard began looking for film roles. His film debut was in 1975's Report to the Commissioner, which he followed with 1976's Baby Blue Marine. Audiences and critics alike noticed Gere when he played opposite Diane Keaton in 1977's Looking for Mr. Goodbar.
Gere's first starring roles came in 1978 when he landed leads in both Days of Heaven and Bloodbrothers. After doing Yanks in 1979, Gere achieved stardom playing a prostitute in Paul Schrader's American Gigolo. Commercial success came in 1982 with the military romance An Officer and a Gentleman. He played opposite Debra Winger and generated sexual chemistry with her despite the reports that they despised working with each other.
Gere was at the top, but started to stumble with roles in Beyond the Limit and Breathless. He continued flopping at the box office with The Cotton Club and No Mercy. Though he received great notices for his role in Broadway's Bent, his cinematic outings continued to stumble with 1985's King David and 1988's Miles from Home.
Gere was in need of some career surgery and he found two roles that helped him greatly. In Mike Figgis' Internal Affairs, Gere played a rogue cop and then had a huge box office success with Pretty Woman. Playing opposite Julia Roberts, Gere and director Garry Marshall tapped into a sense of comic timing that Gere had previously not displayed.
Gere worked with legendary director Akira Kurosawa in 1991's Rhapsody in August. He followed that with the psychological thriller Final Analysis, Sommersby and Mr. Jones. Once again, it seemed that Gere had failed to capitalize on previous cinematic successes.
Turning to the small screen, Gere earned an Emmy nomination playing a gay choreographer in HBO's 1993 production And the Band Played On. He bombed on the big screen again when he played Lancelot to Sean Connery's King Arthur in 1995's First Knight. He hit his stride again playing Edward Norton's lawyer in Primal Fear and then turned to a project, Red Corner, that dealt with something close to Gere's heart: the Chinese occupation of Tibet. Following Red Corner, Gere turned to the action genre, teaming with Bruce Willis in The Jackal.
In 1999, Gere teamed with Julia Roberts and Garry Marshall to make Runaway Bride. That film had box office success but he missed again in 2000 when he played opposite Winona Ryder in the weepy romance Autumn in New York. That was followed by a better role for him as a handsome gynecologist in Robert Altman's Dr. T and the Women. Alas, the good work did not translate into lines at the cinemas.
2002 was a busy year for Gere. He released the disappointing horror The Mothman Prophecies, did much better as the cuckolded husband in Unfaithful and returned to his musical roots opposite Renée Zellweger and Catherine Zeta-Jones in the film adaptation of the musical Chicago. Playing razzle-dazzle lawyer Billy Flynn, Gere was nominated for a Golden Globe, which he won in January 2003.
In 2004, Richard appeared with Susan Sarandon and Jennifer Lopez in Shall We Dance. That was followed by roles in Bee Season with Juliette Binoche and The Hoax.
Keeping busy in 2007, he appeared in The Flock with Claire Danes, The Hunting Party opposite Terrence Howard and I'm Not There with Cate Blanchett and Heath Ledger. The next year, he starred with Diane Lane in Nights in Rodanthe.
He also keeps himself busy offscreen. He devotes a lot of his time to the causes of Tibetan Buddhism, working to promote the activities of its spiritual leader the Dalai Lama. Gere, whose marriage to Cindy Crawford ended in 1995, had a son, Homer James Jigme Gere, with actress Carey Lowell in 2000. The pair married in 2002.
As time progresses, we'll have more info about Richard Gere here. If you have any comments or suggestions about our coverage, please email us.