Tom Sturridge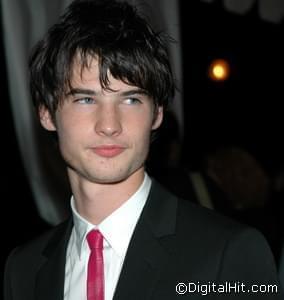 Check out our Tom Sturridge photo gallery.
Born: Jan. , 1986 London, England, UK
[Please note that we are recovering from a bad database backup and some of our bio entries might be a bit stale. We are baking up a fresh batch as soon as possible.]
Thomas Sidney Jerome Sturridge was born in London, England in January of 1986. He's the son of director Charles Sturridge and actress Phoebe Nicholls and the grandson of actors Anthony Nicholls and Faith Kent. Sturridge attended Winchester College at the same time as fellow actor Hugh Dancy. His siblings attended the prep school Harrodian and through them he met and became friends with future Twilight star Robert Pattinson.
Tom was first seen in 1997's FairyTale: A True Story. He was seen on the big screen again seven years later when he worked opposite Reese Witherspoon in Vanity Fair and starred with Annette Bening in Being Julia.
In 2005, he appeared in the TV movie A Waste of Shame: The Mystery of Shakespeare and His Sonnets. The following year, he was cast as the lead in the film Jumper, but was replaced by Hayden Christensen just two weeks before filming as the studio decided they wanted an older actor in the role. That same year, Sturridge was in Like Minds with Toni Collette.
In 2009, Tom was in Richard Curtis' Pirate Radio with Philip Seymour Hoffman, January Jones and Rhys Ifans. That was followed by a starring role in Waiting for Forever with Rachel Bilson. In 2012, he was seen in On the Road with Sam Riley, Garrett Hedlund and Kristen Stewart and in 2014 in Effie Gray opposite Dakota Fanning and Emma Thompson.
On the social scene, Sturridge and his pals Robert Pattinson, Bobby Long, Marcus Foster, and Sam Bradley have been labeled the "Brit Pack" by the London tabloids as they follow them around the city's pubs and clubs.
As time progresses, we'll have more info about Tom Sturridge here. If you have any comments or suggestions about our coverage, please email us.