Pirate Radio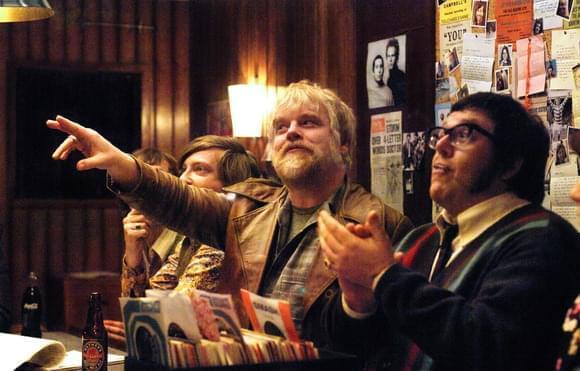 Photo: © 2009 Focus Features LLC
Director(s): Richard Curtis
Writer(s): Richard Curtis
Cast: Philip Seymour Hoffman, Bill Nighy, Rhys Ifans, Nick Frost, Kenneth Branagh and Tom Sturridge
Release Date(s)
Nov 13, 2009 - Wide
Read our review.
The Internet generation —- with the ability to grab media from limitless sources —- may find it hard to believe that in mid-Sixties Britain, the only way to get a constant flow of rock and pop was by listening to pirate radio stations broadcasting from sea outside the UK's territorial waters. It's even harder to believe that at a time when British music was taking the world by storm, the BBC was only broadcasting popular music two hours a week.
It's this situation that is the background for Richard Curtis' latest movie Pirate Radio. It's a topic that's been banging around his head for a decade.
"Every person in my generation has the same memory," says Curtis. "You would go to bed at night, put your transistor radio underneath your pillow, switch it on with its little glowing light — and stay up late to hear this fantastic music and voices you could not hear elsewhere. Your parents would shout from downstairs, 'Go to sleep! Turn off the light!' It was one of the things that made me love pop music most, that slight sense of it being illicit and illegal."
Curtis and music supervisor Nick Angel began delving into the music of the era, compiling over 200 songs that would eventually be whittled down to the 70 that made it into the final film. To get the cast into the mood, they loaded their musical finds onto iPods. "We wanted to give the actors a flavour of the music that their characters would have been into," Angel says. "We couldn't assume that a 23-year-old was going to be that familiar with songs from 1966 and 1967. Even if they were, everybody has gaps in their music knowledge. So we had a great blend, of tracks that are very well-known and loved, and others that are less well-known but loved."
Curtis' impressed cast and crew with his seemingly encyclopedic knowledge of music. Actor Philip Seymour Hoffman, who plays an American DJ nicknamed The Count says "It was so helpful that Richard is a genuine connoisseur. I would recognize the music being played, though not recall who was singing it or know who wrote it —- but he would know."
Rhys Ifans, who worked with Curtis on Notting Hill, loved the description of his DJ character. "Richard handed me something very special, what with his script's description of Gavin as 'the coolest man in the world,' this setting of an amazing musical era, and the pioneering spirit of the deejays. Unlike in Notting Hill, I remain fully clothed this time — and in great clothes!" Adds the Welsh actor, "It's Richard's own character that shines through in this picture; he genuinely comes from a place of love."
Pirate Radio sets sail in North America on November 13th, 2009.
Read our review.