Daniel Day-Lewis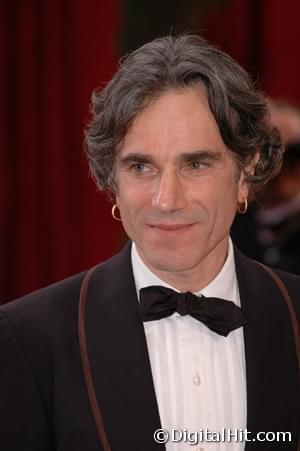 Check out our Daniel Day-Lewis photo gallery.
Born: Apr. 29, 1957 London, England, UK
[Please note that we are recovering from a bad database backup and some of our bio entries might be a bit stale. We are baking up a fresh batch as soon as possible.]
Daniel Michael Blake Day-Lewis was born on April 29, 1957 in London, England. Day-Lewis studied his craft at the Bristols Old Vic Theatre School. He made his film debut in 1971's Sunday Bloody Sunday.
Daniel acted on stage with the Bristol Old Vic and Royal Shakespeare Companies. Day-Lewis found himself in small roles on TV projects like Artemis 81, How Many Miles to Babylon? and Frost in May.
In 1982, he again landed a film role, this time Gandhi. His next big project was 1984's The Bounty, which starred Mel Gibson and Anthony Hopkins. He came into the public's conscience with his next two roles: 1985's My Beautiful Laundrette and A Room with a View, which starred Helena Bonham Carter and Maggie Smith.
Day-Lewis still performed on stage with the Royal Shakespeare Company in productions of Romeo and Juliet and A Midsummer's Night's Dream. He returned to the screen with 1988's The Unbearable Lightness of Being with Juliette Binoche and Lena Olin. Also that year, he appeared in the comedy State and Bars with Harry Dean Stanton.
In 1989, Daniel appeared in Eversmile, New Jersey and My Left Foot: The Story of Christy Brown. His role as Christy Brown, a respected novelist, poet and painter who had to overcome his disabilities with the help of his mother, garnered him much critical praise for his portrayal and many accolades including an Academy Award. Having prepared intensely for his role, he took some time off and wasn't seen on screen again until three years later in 1992's The Last of the Mohicans with Madeline Stowe. He followed that up with The Age of Innocence opposite Winona Ryder and Michelle Pfeiffer and worked with Pete Postelthwaite on In the Name of the Father. That role earned him his second Oscar nomination.
A few years later, he teamed up again with Ryder as John Proctor in Arthur Miller's classic The Crucible, which also featured Joan Allen and Bruce Davison. The next year, audiences saw him in The Boxer opposite Emily Watson.
Day-Lewis then took a self-imposed semi-retirement and wasn't seen on the big screen until five years later when he worked with Martin Scorsese on 2002's Gangs of New York, starring Leonardo DiCaprio, Cameron Diaz, Jim Broadbent and John C.Reilly. This film would earn him his third Oscar nomination. His next film was 2005's The Ballad of Jack and Rose, which was written and directed his wife since 1996, Rebecca Miller, the daughter of Arthur Miller.
In 2007, Day-Lewis starred in Paul Thomas Anderson's There Will Be Blood. His performance as Daniel Plainview won the actor an Academy Award, a BAFTA, Critics Choice Award, Golden Globe, and SAG Award.
In 2009, Daniel appeared in the musical Nine, a film whose cast featured Nicole Kidman, Marion Cotillard, Penélope Cruz, Judi Dench and Kate Hudson.
Another award-filled year greeted him in 20012, where he played the title character in Steven Spielberg's Lincoln opposite Sally Field and Tommy Lee Jones. The role won him an Academy Award, a Golden Globe, a BAFTA, and a SAG Award among others.
Day-Lewis and Miller have three children.
As time progresses, we'll have more info about Daniel Day-Lewis here. If you have any comments or suggestions about our coverage, please email us.