Farrah Fawcett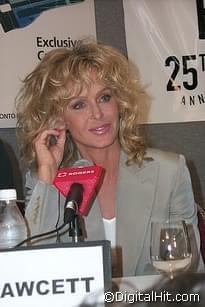 Check out our Farrah Fawcett photo gallery.
Born: Feb. 2, 1947 Corpus Christi, Texas, USA
Died: Jun 25, 2009
[Please note that we are recovering from a bad database backup and some of our bio entries might be a bit stale. We are baking up a fresh batch as soon as possible.]
Ferrah Leni Fawcett (later changed to Farrah) was born on February 2, 1947 in Corpus Christi, Texas. Her passion for acting came at an early age while she was still in high school. She studied microbiology at the University of Texas, but she never let go of her love for acting.
After participating at a campus beauty contest, Farrah met an agent who spurred on her move to Hollywood where she began to land commercials. When she started dating Lee Majors, who was then starring in The Big Valley, he was able to help her get work using his popularity as an influence. In 1969, she made her feature film debut in Un homme qui me plaît (Love Is a Funny Thing). From there, she was seen in guest starring roles on television before being seen in a larger role in 1970's Myra Breckinridge, which starred Raquel Welch, Mae West, and Rex Reed. Unfortunately the X rating of the critically-slammed film started later rumours that Fawcett began her career as an adult film star.
Fawcett continued to work on television in guest starring roles and made for TV movies like 1973's The Great American Beauty Contest and Of Men and Women. From 1974 to 1976, she was a guest star on both Harry O and The Six Million Dollar Man, the latter starring her then husband Lee Majors.
In 1976, her star-making role came with her being cast in Aaron Spelling's Charlie's Angels with Kate Jackson and Jaclyn Smith a year that also saw her in the film Logan's Run. It was also in 1976 that Farrah was seen on the walls of boys' bedrooms around the world due to the release of her iconic red bathing suit poster.
Fawcett only stayed with the show for one season, after being pushed to leave by Majors and having disputes about the script and her salary. Getting out of her contract, she had to agree to make a few appearances to check on her character's little sister, replacement Cheryl Ladd. After her departure from Charlie's Angels, she was seen in 1978's Somebody Killed Her Husband with Jeff Bridges, 1979's Sunburn with Charles Grodin and in 1980's Saturn 3 with Kirk Douglas, a film which feature her first topless role.
In 1981, she was in the comedy The Cannonball Run starring Burt Reynolds and the TV movie Murder in Texas as a the victim of a prominent plastic surgeon. She earned rave reviews playing a woman who turns the table on her attacker in the 1982 play Extremities. In 1984, she made jaws drop playing the real life story of a woman who kills her abusive husband in the TV movie The Burning Bed. In 1986, she starred in the film version of Extremities and played Beate Klarsfeld in the TV movie Nazi Hunter: The Beate Klarsfeld Story. In 1987, she went on to star in another biopic, playing Barbara Hutton in the TV movie Poor Little Rich Girl: The Barbara Hutton Story which earned her a Golden Globe nomination. In 1989, she ended the Eighties busy with See You in the Morning and the TV movies Margaret Bourke-White and Small Sacrifices, where she played the true life story of a mother who attempts to kill all her three children and pass it off as a car jacking.
In the Nineties, Farrah continued her run with TV movies like 1992's Criminal Behavior, 1994's The Substitute Wife and the 1995 feature Man of the House. In 1997, she appeared in The Lovemaster and The Apostle with Robert Duvall, a role that won critical acclaim for her role.
In 2000, she starred in the TV movie Baby as a woman who takes care of an abandoned baby and the Robert Altman film Dr. T and the Women as Richard Gere's wife.. In 2001, she starred in TV movie Jewel and was seen in a recurring role on Spin City. From 2002 to 2003, she was seen in a recurring role on The Guardian and in 2003's TV movie Hollywood Wives: The New Generation. In 2004, she was seen in the film The Cookout.
In her private life, Fawcett separated from Lee Majors in 1979 and finalized her divorce from him in 1982. She's been involved in an on'n'off relationship with Ryan O'Neal since then and the couple had a son, Redmond, in 1985. It was announced in 2006 that Fawcett had been fighting cancer. She passed away on June 25th, 2009.
As time progresses, we'll have more info about Farrah Fawcett here. If you have any comments or suggestions about our coverage, please email us.