Freida Pinto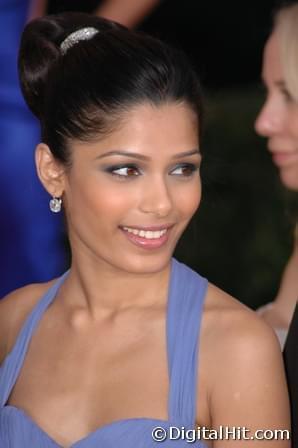 Check out our Freida Pinto photo gallery.
Born: Oct. 18, 1984 Mumbai, Maharashtra, India
[Please note that we are recovering from a bad database backup and some of our bio entries might be a bit stale. We are baking up a fresh batch as soon as possible.]
Freida Pinto was born on October 18, 1984 in Bombay, Maharashtra, India. Pinto studied at Carmel of St. Joseph School in Malad and then earned her Bachelor of Arts degree in English Literature at Mumbai's St. Xaviers College, but her acting lessons would come after she won her role in her film debut.
Pinto's early work was as a model in various ads in print and on television for clients like De Beers, MTV and India Today. It was through this work that her passion for acting grew.
In 2006, she became a host on the Zee TV show Full Circle, a travel show that raised her profile in Southeast Asia.
Pinto began to focus on auditions. After six months of auditioning, she auditioned before Danny Boyle, who was casting a film called Slumdog Millionaire. After landing the part she began an intensive three month acting course run by Indian instructor Barry John. In 2008, Slumdog Millionaire, which co-starred Dev Patel, Anil Kapoor and Irrfan Kahn, became a darling of critics and audiences alike and the film became a big winner during awards season, culminating in its Best Picture win at the 81st Academy Awards.
With one film under her belt, Pinto is now preparing to work with directors like Julian Schnabel and Woody Allen.
As time progresses, we'll have more info about Freida Pinto here. If you have any comments or suggestions about our coverage, please email us.