Jeri Ryan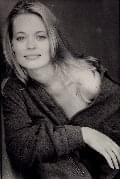 Check out our Jeri Ryan photo gallery.
Born: Feb. 22, 1968 Munich, Germany
[Please note that we are recovering from a bad database backup and some of our bio entries might be a bit stale. We are baking up a fresh batch as soon as possible.]
Jeri Ryan has moved from the form-fitting uniforms of Star Trek: Voyager's Seven of Nine to the textbooks of Boston Public's Ronnie Cooke. No matter where she goes, her fans are sure to follow.
She was born Jeri Lynn Zimmerman on February 22, 1968 in Munich, Germany. An army brat, Jeri lived on military bases all over the US before the family finally settled down in Paduch, Kentucky.
At one time wanting to be a veterinarian, Jeri caught the acting bug in fourth grade. She graduated at the top of her class at Lone Oak High School and was voted most talented. She then attended Northwestern University for theater.
The young beauty won the sixth annual Miss Northwestern Alpha Delta Phi Pageant in 1989 and in that same year, she won the Miss Illinois Pageant and went came in fourth in the 1990 Miss America Pageant.
Still working on her acting, Jeri auditioned for show after show and started doing commercials. She won her first TV part on Who's the Boss? playing a sexy swim instructor. She followed that up with roles on Matlock, Murder, She Wrote, and Melrose Place. She also moved into TV-movies and appeared in Coed Call Girl, Nightmare in Columbia County and In the Line of Duty: Ambush in Waco. She also appeared in the independent films The Last Man and Men Cry Bullets.
Jeri's starring role on NBC's Dark Skies was short-lived, as the show was quickly canceled, but she developed a cult following when she signed on to play the part-Borg Seven of Nine on Star Trek: Voyager. When that show ended its run in 2001, Jeri landed another TV role on David E. Kelley's Boston Public. She has also appeared in the films The Kid and Dracula 2000.
In 2003, Jeri appeared in Down with Love with Ewan McGregor and Renee Zellweger.
Her 1999 divorce from husband Jack Ryan became front page news in 2004, when unsealed court documents about his sexual interests became a point of interest in his Congressional campaign.
As time progresses, we'll have more info about Jeri Ryan here. If you have any comments or suggestions about our coverage, please email us.