Michael Palin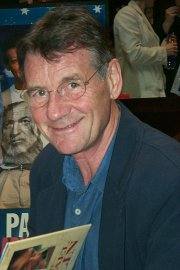 Born: May 5, 1943 Sheffield, England, UK
[Please note that we are recovering from a bad database backup and some of our bio entries might be a bit stale. We are baking up a fresh batch as soon as possible.]
Michael Palin, whose latest travel adventure takes him to significant places in the life of Ernest Hemingway, is now as well known for his travels as he is for his work as a member of Monty Python.
Michael was born in Sheffield, England on May 5th, 1943. While studying at Oxford, he started to perform in comedy shows and struck up a partnership with fellow writer and performer Terry Jones.
After graduating, the pair started to write for a variety of BBC comedy shows including The Frost Report and The Two Ronnies. They met fellow future Python Eric Idle in 1967 when they wrote and performed in the children's show Do Not Adjust Your Set.
In 1969, the trio teamed up with Graham Chapman, John Cleese and American animator Terry Gilliam, to create the series Monty Python's Flying Circus. As Python, the troupe made 45 episodes between 1969 and 1974 as well as five feature films: And Now for Something Completely Different (1971), Monty Python and the Holy Grail (1975), Life of Brian (1979), Monty Python Live at the Hollywood Bowl (1982) and 1983's Monty Python's The Meaning of Life.
Palin has also acted in shows and films outside of Python. His films include Jabberwocky, Time Bandits, The Missionary and Terry Gilliam's Brazil. He also teamed up with his Python buddy John Cleese to make the popular A Fish Called Wanda and it's sequel Fierce Creatures. His role in Wanda earned him a BAFTA Award for Best Supporting Actor.
Michael's TV credits include the Ripping Yarns series which he co-wrote with Terry Jones, as well as writing credit for East of Ipswich and Number 27. In 1991 he starred in the highly acclaimed British mini-series GBH.

Michael's most recent TV appearances have featured him as a world traveller in a series of documentaries starting with 1989's Around the World in 80 Days. He went Pole to Pole in 1992, and his Pacific Rim travels were released in 1997 as Full Circle with Michael Palin.
In 1994, his first stage play, The Weekend, was performed in London's West End.
As time progresses, we'll have more info about Michael Palin here. If you have any comments or suggestions about our coverage, please email us.