Pamela Anderson
Born: July 1, 1967 Ladysmith, British Columbia, Canada
[Please note that we are recovering from a bad database backup and some of our bio entries might be a bit stale. We are baking up a fresh batch as soon as possible.]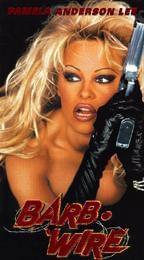 Pamela Anderson a.k.a. Pamela Anderson Lee a.k.a. Pamela Lee is one of the most photographed women on the planet. She's one of those special performers that have more celebrity than talent yet still find themselves terribly famous. Previously a surgically-enhanced bottle blonde (she had her implants removed in April '99), Pamela seems to show more care in choosing her revealing wardrobe than her roles. She's been on the cover of Playboy more than any other woman, she played the eye-candy role of the Tool Time Girl on Home Improvement, and she wore the impossibly small bathing suit on Baywatch for a few seasons playing C.J. Parker.
Pamela's forays into feature films haven't been that successful. She made some direct-to-video films like Raw Justice and Snapdragon and her big screen release Barb Wire was savaged by the critics.
Unfortunately, her private life hasn't had much success either. After a four-day courtship she married Motley Crue drummer Tommy Lee. They married on the beach in Cancun. Instead of rings they each had each other's name tattooed on them. She tattooed his on her finger, while Tommy had her name tattooed on his penis. Ouch!
The world got a chance to see those tattoos when the Internet Entertainment Group released a video stolen from the couple's home. Called Pam and Tommy Lee: Hardcore and Uncensored, the video went beyond the naked photos the world had already seen and featured graphic sexual encounters between the newlyweds.
They had a son, Brandon, but just short of their second anniversary Pamela filed for divorce. They reconciled shortly after and had a second son, Dylan, in late 1997. It was just after that when Pamela made a 911 call to say that Tommy Lee was beating her. Lee was arrested and served some time behind bars. Pamela once again filed for divorce and custody of her two children. However, in April of '99 the two said they were reconciling again and might even remarry. That reconciliation didn't last long and the pair split again. She was also engaged to singer Kid Rock for a while.
After starring in and producing the syndicated series V.I.P., Pamela reunited with her Baywatch co-stars in 2003 to appear in the TV movie Baywatch: Hawaiian Wedding. That same year she also appeared in Scary Movie 3. She then produced and starred in Spike TV's animated series, Stripperella, voicing the world's first superhero stripper.
In 2005, Pamela starred in the FOX series Stacked, whose title of course referred to the fact that Pamela had a…job in a bookstore.
In 2006, Anderson married Kid Rock in several ceremonies starting in July. Alas, the pair divorced in February of 2007. She then married Paris Hilton sex tape co-star Rick Salomon on October 6th, 2007. She filed for divorce about two months later.
In May of 2008, Tommy Lee announced that he and Pamela were back together. Fingers crossed…
As time progresses, we'll have more info about Pamela Anderson here. If you have any comments or suggestions about our coverage, please email us.