Sarah Michelle Gellar
Born: Apr. 14, 1977 New York, New York, USA
[Please note that we are recovering from a bad database backup and some of our bio entries might be a bit stale. We are baking up a fresh batch as soon as possible.]
Photo courtesy of Business Wire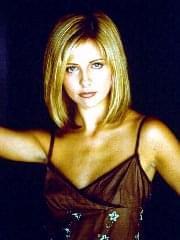 Sarah Michelle Gellar plays Buffy on wildly successful Buffy the Vampire Slayer.
Sarah was born on April 14th, 1977 in New York City. She was discovered at the age of four by an agent who saw her in a restaurant. That same year she made her first TV appearance with a guest role on the Tony Randall sitcom Love, Sidney. In 1983, she had her first role in a TV movie when she played opposite Valerie Harper and Law & Order's Jerry Orbach in An Invasion of Privacy.
Sarah appeared in several made-for-TV movies over the next few years and eventually landed a role in the short-lived half-hour teen soaper Swan's Crossing. That early introduction to soap prepared her for her big soap opera break. In 1993, she landed the role of Kendall Hart on the daytime sopa All My Children. She stayed with the show until 1995.
1997 was the big bang year for Sarah as she exploded onto the TV universe with her title role in Buffy the Vampire Slayer. While on hiatus in her first season, she made the teen horror flick I Know What You Did Last Summer, which starred Jennifer Love Hewitt. The two actresses felt there was ample emphasis on their cleavage as most of their outfits were tight and low-cut. They joked that the film should have been named I Know What Your Breasts Did Last Summer. In the same year, Sarah also shot a part in Scream 2.
Buffy was immensely popular and Sarah started gracing several magazine covers including a provocative red leather shot on Rolling Stone.
Sarah had three films in 1999, including an uncredited role in She's All That and starring roles in Simply Irresistible and Cruel Intentions.

Suggested Reading**

In December of 2000, Sarah was nominated for a Golden Globe for her role in Buffy the Vampire Slayer. In April 2001, Sarah announced her engagement to her Scooby Doo co-star, Freddie Prinze Jr.

After Buffy came to an end in 2003, Gellar once again played Daphne in Scooby Doo 2: Monsters Unleashed. That same year, she starred in The Grudge, a remake of the Japanese horror film Ju-on. In 2006, she appeared in Southland Tales, The Grudge 2 and The Return. The following year, she lent her voice to TMNT and starred with Alec Baldwin in Suburban Girl.

As time progresses, we'll have more info about Sarah Michelle Gellar here. If you have any comments or suggestions about our coverage, please email us.