21 Jump Street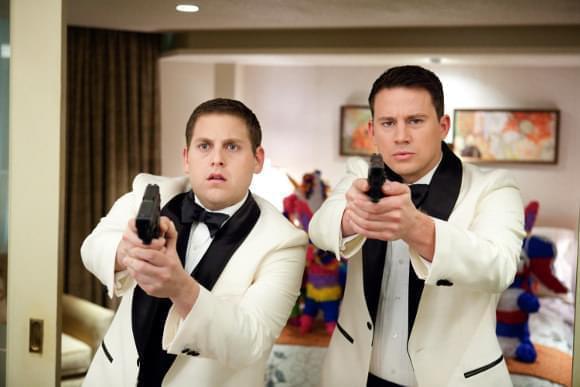 Photo: (c)2012 Sony Pictures
Director(s): Phil Lord and Christopher Miller
Writer(s): Michael Bacall
Cast: Jonah Hill, Channing Tatum, Brie Larson, Dave Franco, Rob Riggle, DeRay Davis, Ice Cube, Ellie Kemper and Chris Parnell
Release Date(s)
Mar 16, 2012 - Wide
Read our review.
21 Jump Street was the late Eighties cop series that gave the young Fox network one of its first hits and helped introduce the audience to a young actor named Johnny Depp. Jump ahead a quarter of a century and 21 Jump Street the movie takes the show's concept, gives it a spin and turns it into a raunchy, yet sweet, R-rated buddy movie.
Producer Neal H. Moritz had talked to the show's creator, the late Stephen J. Cannell, but doing an updated spin on the series, but it's not until Jonah Hill got involved that the idea really started to gel.
According to executive producer Tania Landau, "It's a great concept: Two young-looking cops go undercover at a high school, and against all odds, bust a drug ring. We make a lot of action movies, so that was how we saw the direction for this project, too. But things changed when we had lunch with Jonah; he suggested doing it as an R-rated action comedy, and suddenly it all fell into place."
Hill saw there was a story besides cops going undercover as teens. "It started with asking myself what would it be like to relive the most important time period of your youth…high school. You think you have all the answers that you didn't have then, but then you get back there and realize those answers are all wrong. You then immediately revert back to the insecurities and problems you had when you were seventeen."
Screenwriter Michael Bacall, who worked with Hill on the story, adds, "At first, nothing goes as planned for the characters. These guys treat it like wish fulfilment — 'Oh, if I only knew then what I know now.' But all of the information that they have no longer applies. Jenko — who was always the cool kid back then — falls in with the nerds, and Schmidt — the nerdier of the two — falls in with the cool crowd. It's a total role reversal."
How that role reversal works will become clear as the rookie cops head back to school when 21 Jump Street opens on March 16th, 2012.
Read our review.