A Christmas Carol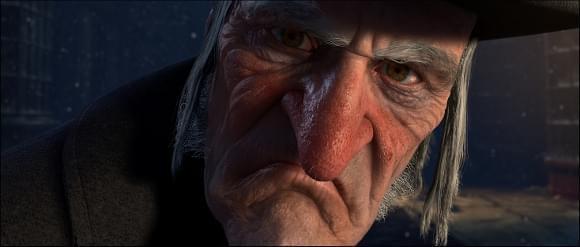 Photo: ©ImageMovers Digital LLC. All rights reserved.
Director(s): Robert Zemeckis
Writer(s): Robert Zemeckis
Cast: Jim Carrey, Gary Oldman, Colin Firth, Cary Elwes, Robin Wright and Bob Hoskins
Release Date(s)
Nov 6, 2009 - Wide


It has to be a hard task approaching a piece like A Christmas Carol. Everyone from humans to Muppets to weekly sitcoms have done their take on the classic Charles Dickens story. Director Robert Zemeckis still felt that he could bring a new vision to the project.

"It's as if Charles Dickens wrote this story to be a movie — it's so visual and cinematic. It's the greatest time-travel story ever written and I wanted to do the movie the way I believe it was originally envisioned by the author," says the director, who now brings the classic tale to the screen as a 3D computer-animated adventure. The film also marks the début of ImageMovers Digital, which was created by Robert Zemeckis, Steve Starkey and Jack Rapke to develop 3D performance capture films exclusively for The Walt Disney Studios.

Jim Carrey, whose very being calls out to be captured in 3D, takes the lead as Ebenezer Scrooge as well as the ghosts of Christmas Past, Present and Christmas Yet to Come. He's joined by Gary Oldman, Colin Firth, Robin Wright Penn, Cary Elwes and Bob Hoskins.

Though Dickens first published the story in 1843, Jim Carrey agrees that it has a timeless appeal. "Everybody loves a good transformational story. You know, somebody who sees the light, who finally finds out what's important in life. And, this is one of the greatest ones ever written," says Carrey.

Producer Jack Rapke thinks that Carrey's the man to capture Scrooge and agrees with director Zemeckis that Jim was born for motion capture, a process that translates an actor's actual physical performance into an animated world. "There is a place that he goes to that in a million years you wouldn't think it was possible," says Rapke. " He has an unlimited amount of extraordinary physicality. The way he transforms himself into Scrooge is amazing. He gives his all, pursuing every single permutation of the character. He comes up with so many alternatives and they are all great. It's an embarrassment of riches."

Zemeckis adds that I was a no-brainer to have Carrey perform the roles of the ghosts as well, explaining that "Since the ghosts are all an extension of Scrooge, it's only fitting that they all have a bit of Scrooge in them. So it was a perfect fit to have Jim play all the parts."

While Carrey plays the miserly Scrooge, Colin Firth took on the role of his nephew, Fred. "Fred is quite simply the opposite of Scrooge," says Firth. "He's the foil. If Scrooge is the ultimate pessimist, Fred is the ultimate optimist. I think Fred sees life very simply. 'Why can't we be friends? It's not complicated. I'm inviting you to dinner. Why don't you just come for dinner?' I think he embodies the Christmas spirit. He wishes no ill to anybody."

There's obviously no ill will between Zemeckis and veteran British actor Bob Hoskins, who teamed up a couple of decades ago for the ground-breaking animated film Who Framed Roger Rabbit? "My main reason to do this film was to work again with Robert Zemeckis," says Hoskins. "Bob is the Einstein of cinema. His imagination is always worth seeing. It's extraordinary. I've got a very soft spot for Zemeckis — he's mad as a March hare, but I love him."

Seeing as it's a Christmas story, it's only fitting that one of the performers sees Zemeckis in the same light as another holiday staple. "We worked together on Forrest Gump, says Robin Wright Penn. "Loved him then, love him now. He's like Santa Claus, because he's jolly in his openness to actors. He will say, 'Let's explore. Sure. Why not? Let's try it.' It's such a liberating way to work. Because why not try? Why not fail? Because, guess what? We don't have to use it, you know? He's very much like that. He doesn't work with a lot of fixed ideas."

Robert Zemeckis brings the timeless tale to North American screens on November 6th, 2009.