Abraham Lincoln: Vampire Hunter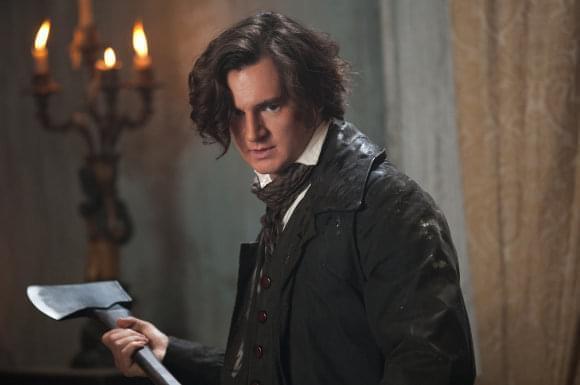 Photo: ©2012 20th Century Fox
Director(s): Timur Bekmambetov
Writer(s): Seth Grahame-Smith
Cast: Benjamin Walker, Dominic Cooper, Anthony Mackie, Mary Elizabeth Winstead, Rufus Sewell, Marton Csokas, Jimmi Simpson, Joseph Mawle and Robin McLeavy
Release Date(s)
Jun 22, 2012 - Wide


Abraham Lincoln has always been considered a great president, but what would happen if we discovered he was one of history's greatest vampire hunters? That's the premise of Abraham Lincoln: Vampire Hunter.

Producer Tim Burton loved the thought of viewing Lincoln as a superhero. "Lincoln's entire life mirrors the classic comic book superhero mythology. It's a duality: during the day he's the president of the United States; at night, a vampire hunter."

Writer Seth Grahame-Smith, who adapted his novel of the same name, says Lincoln's real life almost had the same background as some of our favourite comic book heroes. "Lincoln's life story is an archetypal superhero origin story. He's as close to an actual superhero as this country's ever seen. Forget about vampires. Lincoln had neither family name nor money. His mother died when he was a youngster. In fact, everybody he loved had died. With no education, and armed with just his mind, he became president and saved the nation." Grahame-Smith also notes that his vampires aren't the swoon-inducing type you might find in Twilight. "The vampires in our movie aren't romantic or funny, and they certainly don't sparkle," he says. "Our vampires are bloodthirsty and cunning — and most frightening of all, they've become a part of the fabric of everyday life, working as blacksmiths, pharmacists, and bankers."

Stage actor Benjamin Walker was picked to play Lincoln. It wasn't his first time in the White House, having played the lead in the Broadway show Bloody Bloody Andrew Jackson. Walker thought it was important to make Lincoln relatable. "What's dangerous about playing an icon is not allowing the character to be human," says Benjamin. "You must allow the character to be vulnerable or even silly. Luckily, Tim and Timur [Bekmambetov, the director] were open to making Abraham a flawed, funny and conflicted man."

Walker was required to drop thirty pounds to play the lanky politician, but unlike most people playing Lincoln, he also had to undergo weapons training to become a hunter of the undead.

Find out how good Walker is at delivering the Gettysburg Address and killing vampires when Abraham Lincoln: Vampire Hunter opens on June 22, 2012.