After Earth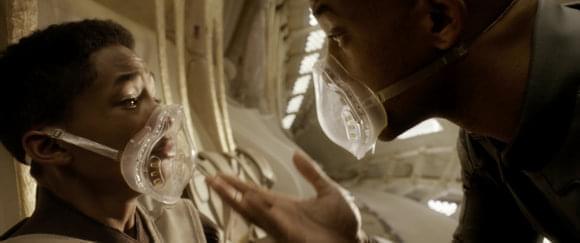 Photo: ©2013 Columbia Pictures
Director(s): M. Night Shyamalan
Writer(s): Gary Whitta and M. Night Shyamalan
Cast: Jaden Smith, Will Smith, Zoe Isabella Kravitz, Sophie Okonedo, Glenn Morshower and Kristofer Hivju
Release Date(s)
May 31, 2013 - Wide
Read our review.
After Earth, the latest starring vehicle for Jaden Smith, is a family affair. It co-stars his father, Will Smith, who wrote the original story and produced the feature. His mother, Jada Pinkett Smith, and uncle, Caleeb Pinkett, also share producing duties.
The film follows a young teenager, Kitai Raige, who crash lands on Earth with his legendary ranger father, Cypher, 1,000 years after humanity had evacuated the planet. His father injured, Kitai must learn to face his fears and journey across a hostile planet if they are to have any chance of survival.
Jaden Smith says the story is about a son trying to get his father's approval. "Kitai feels a lot of pressure to step into his father's shoes. Also, Kitai blames himself for his sister's death — she died years ago in an attack that Kitai thinks he should have done something to stop — and he thinks his dad blames him, too. So the relationship between Kitai and his father is broken, and Kitai is trying to fix it; he's trying too hard to get his father's respect and approval."
Father Will sees it as a simple relationship story in a huge setting. Says Smith, "What I thought was really interesting about this film was that it's huge in scope, but it comes down to a simple idea that every person in the audience can relate to: it's a father and son story. I think that's what audiences will really connect with — seeing the father try to connect with the son, to teach him, with life-or-death consequences."
Smith wrote the original script but turned the writing reins over to Gary Whitta and M. Night Shyamalan. Night also took the task of directing the film. "I'm fascinated by the question of why human beings fear the unknown," says Shyamalan. "In our earliest days as cave-people, that was really important — fear could keep us safe. Fear could keep you alive. But now, we'll fear a new job or a new relationship, because we don't know what's going to happen — and that's not necessarily a good thing. Playing with that in a movie is a fun thing, and in this movie, it's about a father teaching a son how to overcome that. It's a wonderful lesson, because if you can learn how to control your fear of the unknown, you can do anything."
Will Jaden Smith's Kitai conquer his fears? Will M. Night Shyamalan break his string of critically-slammed movies? Find out when After Earth opens on May 31st, 2013.
Read our review.