American Gangster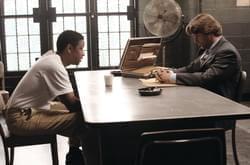 Photo: © 2007 Universal Studios
Director(s): Ridley Scott
Writer(s): Steve Zaillian
Cast: Denzel Washington, Lymari Nadal, Russell Crowe, Yul Vazquez, Chiwetel Ejiofor, Ruby Dee, Cuba Gooding Jr., Idris Elba, Josh Brolin, Carla Gugino, Joe Morton, Ted Levine, Armand Assante, John Ortiz, John Hawkes and RZA
Release Date(s)
Nov 2, 2007 - Wide


Ridley Scott's American Gangster tells the true story of a 1970s Harlem gangster who became a cult figure and the most ruthless man in his line of work only to be taken down by an outcast cop.

The early 70's saw rampant corruption in NYC. Police, judges and lawyers turned a blind eye to the Mafia's heroin trade, a drug made especially popular by soldiers returning from Vietnam. A black entrepreneur named Frank Lucas (Denzel Washington) took advantage of a power vacuum in the black crime world to create his own crime empire, one that worked with a strict business ethic. Soon the inner-city drug trade was his as he offered a purer product at a better price. He was not only a crime lord, he was a community hero.

Meanwhile, Lucas' ascent catches the attention of detective Richie Roberts (Russell Crowe). Roberts has to work hard to convince his peers that a black crime lord is beginning to control the scene. After bringing him down, he then gets him to name names and break up a lot of the syndicates operating in the city.

Academy Award-winning producer Brian Grazer read about Lucas and Roberts in a New York Magazine article by Mark Jacobson called "The Return of Superfly." He optioned the story. Grazer was fascinated by the tale of a man who could make deals for high-grade heroin and then convince U.S. Military officers to smuggle it in the body bags of U.S. soldiers. Says Grazer, "I thought that was a remarkable, inescapable and interesting idea."

Grazer turned to screenwriter Steve Zaillian to write the script. Zaillian, who wrote Schindler's List and Gangs of New York, spent months with Lucas and Roberts to help shape this decade-spanning tale.

Though it had been attached to director Antoine Fuqua, the project would have to wait as changes took place that had Universal shelve the project. Grazer then pursued director Ridley Scott. "I charged forward with all my energy and full commitment to get it made. I'd taken the script to Ridley Scott seven or eight times, and he always liked it, but the timing was never right for him. This time — the ninth or tenth time — he said, 'Yes.'"

Scott was intrigued by the twisted parallels of the two main characters. Lucas was a drug lord with a great home life while Roberts was a driven cop with a hellish personal life. He asked Zaillian to flesh out these aspects of the characters. Scott said he'd sign on if frequent collaborator Russell Crowe was involved and then Washington was again approached to play Frank Lucas. Says Denzel, "Brian came to me and said, 'I've got Ridley.' Well, Ridley's one of the great filmmakers of our time, so you can't say 'No.'"

Washington prepared for his role by hanging out with Lucas. "[I] got in a room with Frank, turned on the recorder and talked with him. I didn't try to imitate him, necessarily, but Frank's such a charmer; that's key to his character. I played Rubin 'Hurricane' Carter and did the same thing with him — just hung out with him, got him alone and got the truth — or, hopefully, got some version of it. But with Frank, I said, 'Don't tell me anything I don't need to know. I don't want to have to testify.'"

Crowe was interested in working on the film too. "I'd read five or six different versions of the script, and I knew which way I would lean, but it all comes down to the captain of the ship. I'd gotten a call from Brian on Friday, and on Saturday I got a call from Ridley about something else, and I asked if he'd read the latest draft. He said he had, and he'd loved it. So, I said, 'Do you think we'd appear greedy if we did another film together so quickly?' He said, 'Who cares?'"

American Gangster opens in North America on November 2nd, 2007.