Brave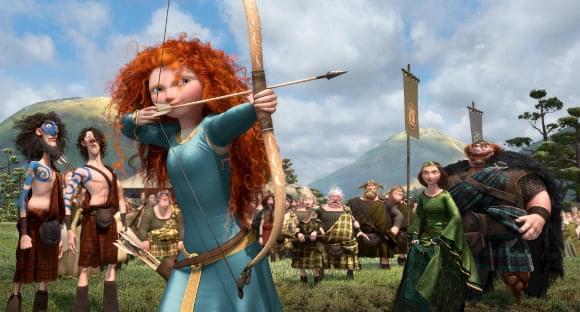 Photo: ©2012 Disney/Pixar
Director(s): Mark Andrews and Brenda Chapman
Writer(s): Mark Andrews, Steve Purcell, Brenda Chapman and Irene Mecchi
Cast: Kelly Macdonald, Billy Connolly, Emma Thompson, Julie Walters, Robbie Coltrane, Kevin McKidd and Craig Ferguson
Release Date(s)
Jun 22, 2012 - Wide
Read our review.
Disney/Pixar's Brave follows the journey of Merida, a Scottish princess determined to choose her own path in life. When an ill-fated wish changes her family and puts her kingdom in peril, she must use all her resources to put things right.
"'Brave is about a teenager's struggle with finding herself, with creating her own destiny," says director Mark Andrews. "More specifically, it's about Merida's struggle in reconciling how the world sees her versus how she sees herself. True courage must be found on the inside."
As usual, Pixar continues to innovate in the field of computer-animated films. John Lasseter, a Pixar exec and executive producer on the film, says that "Brave raises the bar for the art form on every level — human animation, hair and clothing; animation of animals, including bears and horses; believability of organic, natural environments and historical settings."
"Brave has a visual complexity that's at a new level—even for Pixar," says fellow producer and Pixar veteran Katherine Sarafian. "Ancient Scotland—with horses, bears and human beings—is about as organic as you can get. There's absolutely nothing easy in the film. We've pushed the look, pushed our technology and pushed our artists to new heights. Merida's wild, curly mane of red hair and the complexity of clothing on all of the characters—from formal dresses to tunics, cloaks and armour, plus layers and layers of kilt—made this our most challenging film yet."
While the technically-inclined can sit and marvel at the animation advances, Brave isn't short on emotion either. "It's all about changing your fate. And Merida—feeling the constraints of castle life tightening around her—desperately wants to change hers," says co-director Andrews.
How does Merida do when she must use all of her skills to keep family and kingdom together? Find out when Brave opens on June 22nd, 2012.
Read our review.