Byzantium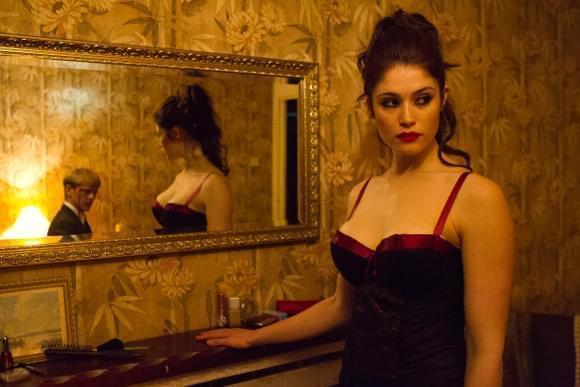 Photo: © Parallel Films (Byzantium) Limited / Number 9 Films (Byzantium) Limited 2012
Director(s): Neil Jordan
Writer(s): Moira Buffini
Cast: Gemma Arterton, Saoirse Ronan, Sam Riley, Jonny Lee Miller, Daniel Mays and Caleb Landry Jones
Release Date(s)
Jul 12, 2013 - Wide
Read our review.
In Byzantium, Clara and Eleanor share a secret. In fact, it's a secret they've been keeping for 200 years and it's about to catch up with them.
Moira Buffini, the playwright and screenwriter, has been interested in vampire stories since she was a girl. "I was probably about eight or nine and I did that thing of creeping down and watching Christopher Lee in one of those Hammer horrors, and I was so terrified that I wouldn't go to the loo in the night on my own for years afterwards," she recalls. "Then vampires went from being this object of horror to this object of fascination as I grew up."
Her play, A Vampire Story, caught the attention of producer Stephen Woolley, who was drawn to its mother-daughter relationship. He also liked the fact that the women, usually the victims in these stories, were the protagonists. "The idea of female protagonists in this genre was interesting," he says.
Their ages were frozen at the time that they became immortal vampires, so Byzantium features a 24-year-old mother (Gemma Arterton) and her teenage daughter (Saoirse Ronan). This was a seller for producer Elizabeth Karlsen. "A mother's relationship with her teenage daughter is raw with emotion of the best and worst kind," says Karlsen. "There's adolescent angst and loathing which competes with parental despair and longing for the innocence of youth. When the child is 16 and the mother a beautiful 24-year-old, the natural order is turned on it's head. A fantastic, twisted and confused relationship takes its place. It is at once familiar yet totally alien."
The relationship also intrigued director Neil Jordan who said that Byzantium is about two people that have to live together forever. With that framework in mind, I saw a wonderful opportunity for a reinvention of all the vampire films. I made a vampire movie before with Interview With The Vampire and since then there's been the Twilight franchise, and the comedy vampire stuff coming up everywhere. It's almost become child's play. And with those kinds of films vampires have these supernatural qualities that they just develop for convenience, and thrilling storytelling. Today's vampires can run fast and fly. The vampires in Byzantium are just two women that bond — because they've survived their cross with death. I just thought this was a great opportunity to bring vampires to life again, to make them real — because the story was rooted in realism. It actually feels like it could happen."
Sink your teeth into Byzantium when it opens on July 12th, 2013. Also, check out our coverage of 's premiere at TIFF.
Read our review.