Captain Phillips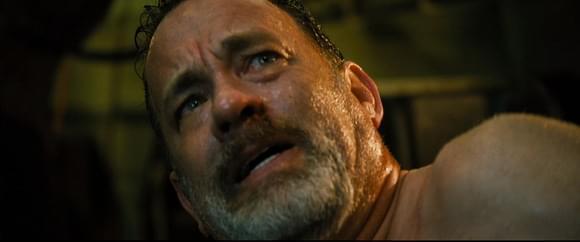 Photo: © 2013 Columbia Pictures Industries, Inc. All Rights Reserved.
Director(s): Paul Greengrass
Writer(s): Billy Ray
Cast: Tom Hanks, Barkhad Abdi, Barkhad Abdirahman, Faysal Ahmed, Mahat M. Ali, Michael Chernus, Corey Johnson, Max Martini, Chris Mulkey, Yul Vazquez and David Warshofsky
Release Date(s)
Oct 11, 2013 - Wide


Based on the true story of the 2009 hijacking of the Maersk Alabama by Somali pirates, Captain Phillips stars Tom Hanks as the captain of the vessel. Taken hostage by a Somali pirate captain (Barkhad Abdi), the two men are subject to global forces at play.

Directed by Paul Greengrass and written by Billy Ray, the film is based on a book by Captain Phillips and Stephen Talty, A Captain's Duty: Somali Pirates, Navy SEALs and Dangerous Days at Sea.

Director Paul Greengrass saw this not only as a pirate story but as a story of the haves and have-nots and the extremes that one will go to in this conflict. Says Greengrass, "We've had a lot of very good films in the last decade that have looked at issues of national security and terrorism, but I wanted this film to look at a broader conflict in our world — the conflict between the haves and the have-nots. The confrontation between Phillips, who is part of the stream of the global economy, and the pirates, who are not, felt fresh and new and forward-looking to me. The stand-off between Phillips and Muse is a thrilling high seas siege, but one that speaks to the larger forces shaping the world today. I've always felt that a story should be told in a way that is compelling and thrilling, but also thought-provoking."

The Maersk line was able to locate a little-used container ship and Hanks and the filmmakers were able to shoot on-board, alongside the ships actual crew. Says Greengrass, "Being on the real ship and having access to the real crew was essential to the process. You could ask them questions — what would they do, what would they say, where would they go, with what piece of equipment, in X, Y, or Z scenario."

Hanks, who spent time getting to know the real Captain Phillips, was amazed that he had returned to work not long after the hostage ordeal. "That in particular I found amazing," said Hanks. "That a man who suffered such a wrenching, terrifying ordeal, could bring himself to go right back to sea. I knew understanding Phillips' strength — that particular kind of personal fortitude and connection to the sea, despite what happened — would be essential to understanding the sort of man Richard is. The reality is that not everybody has what it takes to be a ship captain — and not everyone could have withstood being taken hostage."

See how Phillips and his crew withstood their ordeal when Captain Phillips opens on October 11th, 2013.