Charlie Wilson's War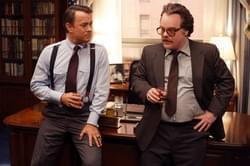 Photo: ©2007 Universal Pictures
Director(s): Mike Nichols
Writer(s): Aaron Sorkin
Cast: Tom Hanks, Jud Tylor, Julia Roberts, Philip Seymour Hoffman, Amy Adams, Ned Beatty, Emily Blunt, Om Puri, Ken Stott, John Slattery and Denis O'Hare
Release Date(s)
Dec 21, 2007 - Wide


Charlie Wilson's War is the true story of what happens when you mix a fun-loving congressman, a cause-driven socialite, and a CIA agent. Between the three of them, they helped launch one of the largest covert operations in history.

The film, written by West Wing creator Aaron Sorkin, follows a congressman from Texas, Charlie Wilson (Tom Hanks). Wilson's friend and sometime lover, Joanne Herring (Julia Roberts) convinces Charlie to back the Afghan Mujahideen against their Soviet invaders. Aided by CIA agent Gust Avrakotos (Philip Seymour Hoffman), Charlie manages to secure funding and equipment for the freedom fighters.

Wilson's exploits first came to public attention when he appeared in a 60 Minutes profile produced by journalist George Crile in 1988. Wilson, a sixth year congressman, engaged in intrigue and politicking that made strange bedfellows out of Wilson, the CIA, Muslim fundamentalists and Jewish arms dealers. Crile's book about the story took about thirteen years to write but as Susan Lyne, Crile's widow and publisher explains, "he was unraveling secret deals with countries that don't even acknowledge each other, CIA covert ops and the inner workings of congressional committees. I think what intrigued him was that this was such an American story, with fallible characters who — underneath the gruffness and drinking and womanizing — had dreams of glory." Susan's sister Barbara adds, "They responded to these underdogs, the Afghan Mujahideen, and believed they could make a difference in the world. Lots of people have dreams of glory, but, occasionally, the stars align just right and three or four people come together and something huge blossoms. George loved redemption stories, and loved this one particularly, because the heroes were so unlikely. He liked the fact that, as the Afghans would tell you, 'Allah works in mysterious ways.' The Americans who participated were all outsiders and misfits who didn't belong in this arena, but they took risks and guessed right."

Crile's book was published in 2003. Tom Hank's, whose Playtone production company acquired the film rights says that, "We took one look at that book and pounced on it. It read like a house on fire. Like every other American, I thought it was a great thing that this ragtag group of Afghans defeated the Russian Army. I thought it was a miracle and it took a long time; what a brave bunch of patriots they were. I had no idea about the covert aspects, or that the money was coming in from the United States and other countries to arm them—money out of our own Congress, signed off by the White House."

Hanks and co-producer Gary Goetzman then enlisted the aid of a writer familiar with negotiating America's halls of power, Aaron Sorkin. Sorkin, responsible for A Few Good Men, The American President and The West Wing, knew how to write about Washington and the military. The highly-detailed book — full of in-depth interviews — took Sorkin about eight months to complete a first draft. "The book is essentially a series of very detailed, in-depth interviews, and it doesn't immediately present itself as a movie. Screenplays are usually written in three acts, but, after a lot of climbing the walls, a five-act structure came to me."

Sorkin also spent time with Charlie Wilson, who came to understand the screenwriting process. "Anybody who reads a script about himself for the first time will have some reservations; you think that some of your most heroic deeds have been left out. But you grow to realize that only so much can be put in, that no movie can have all of the scenes that a book or even a life does. I accepted that early on."

Script in hand, the Playtone team then approached veteran filmmaker Mike Nichols with the project. Says producer Goetzman, "We felt that this was the kind of material that might attract Mike. Political intrigue, coupled with a character like Charlie, whose exploits were not just astonishing, but always entertaining. Charlie and his partner-in-crime, Gust, were great foils, completely different personalities; together they are smart and funny, unbelievably captivating…Joanne Herring, who was glamorous, sexy and stubbornly single-minded — all that makes for great human drama. And comedy often comes out of the most singular and mind-boggling circumstances—the kind of material made for Mike."

Hanks, a friend of Nichols, had always wanted to work with the director. "I know where I was and what I was going through when I saw Mike's films, from Catch-22 to The Graduate to Who's Afraid of Virginia Woolf?" says Hanks.

Nichols also met with Charlie Wilson. "He owns the room, and he is the only politician I've met who isn't at least partly prerecorded. He listens to you, and he answers with whatever comes into his head. He's courtly and kind and thoughtful; he truly loves people."

Nichols believes that the three main characters "got the things started that caused the fall of the Soviet Empire." Adds Nichols, "A lot of people don't know how serious the Cold War was, how terrified everyone was of Russia, how it was a fact. It wasn't a guess about weapons of mass destruction; they had them. The Cuban Missile Crisis was sheer terror, because the Russians could have unleashed them on us. As Charlie says, these things really happened, and it's very hard to grasp that there was one bad guy and it was Russia. All over the world, everybody was terrified of them."

Charlie Wilson's War opens in North America on December 21st, 2007.