Cirque du Freak: The Vampire's Assistant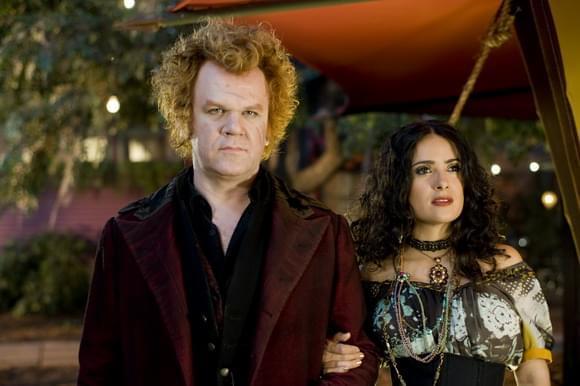 Photo: © 2009 Universal Studios. ALL RIGHTS RESERVED.
Director(s): Paul Weitz
Writer(s): Paul Weitz and Brian Helgeland
Cast: John C. Reilly, Ken Watanabe, Josh Hutcherson, Chris Massoglia, Ray Stevenson, Patrick Fugit, Willem Dafoe and Salma Hayek
Release Date(s)
Oct 23, 2009 - Wide


In Cirque Du Freak: The Vampire's Assistant, a teenager unknowingly breaks a centuries-old truce between warring vampire factions and enters a world of sideshow freaks and creatures of the night.

Based on the 2000 best-selling novel The Saga of Darren Shan, a first person chronicle written by Darren Shan, Cirque Du Freak: The Vampire's Assistant was brought to producer Lauren Shuler Donner's attention by Ewan "Jack" Leslie. Says Shuler Donner, "I have always been intrigued by vampires, but 'Cirque Du Freak' was a completely different take on them. Jack, who runs our company and who also is a producer, brought the books to my attention. They were real page-turners. Every chapter ended with a cliffhanger."

Donner was particularly intrigued by the relationship between the teenage Darren and his mentor, Larten Crepsley, a 220-year-old vampire. "I felt that, in the guise of entertainment, the books had a lot to say about friends and family," explains Lauren. "The author explores the question of 'What is the price of loyalty?' and I found that Darren has to pay a big price to remain loyal to the friends and family he loses. The Cirque becomes his family, and Crepsley becomes a surrogate father."

For director Paul Weitz, the project came along at the right time. "Oddly enough, I wanted to do a story where a kid gets a vampire as a mentor, then I was sent these books and they happened to have that relationship in them," says Weitz. "The books were also full of dark, grotesque stuff — the kind of funny, weird material I was obsessed with in childhood. There's something about starting to become an adult that feels like you've entered a moral grey area&ldots;where things aren't good or evil. That is what sucked me into this: Darren's story is a metaphor for growing up."

When looking for their 220-year-old vampire, the filmmakers turned to John C. Reilly. Director Weitz explains "Crepsley is supposed to be this weird, eccentric dude. He is not your conventional image of a brooding, studly vampire. I needed a really wonderful character actor to play that part, and John fit the bill."

Reilly found playing a non-mortal freeing. "It's not often you get to play someone who is 220 years old. That got me really excited about the character&ldots;how cynical you'd be after living all those years."

Cirque Du Freak: The Vampire's Assistant opens in North America on October 23rd, 2009.