Despicable Me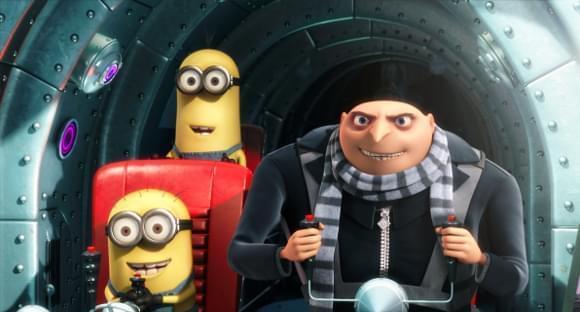 Photo: (c)2010 Universal Pictures
Director(s): Chris Renaud and Pierre Coffin
Writer(s): Cinco Paul and Ken Daurio
Cast: Steve Carell, Jason Segel, Russell Brand, Kristen Wiig, Miranda Cosgrove, Will Arnett, Danny McBride, Jack McBrayer and Julie Andrews
Release Date(s)
Jul 9, 2010 - Wide


One of the world's greatest supervillains, Gru, is planning to steal the moon. While he's prepared with an army of minions, a secret lair and unimaginable weapons, he's not prepared for three young orphans who steal something from him: his heart.

Universal's Despicable Me features an army of talent voicing the characters. They include Steve Carell, Jason Segel, Miranda Cosgrove, Julie Andrews, Russell Brand, Kristen Wiig, Will Arnett, Danny McBride and Jack McBrayer.

Producer Chris Meledandri was pitched the idea by Sergio Pablos, a Spanish animator. He immediately tapped Cinco Paul and Ken Daurio, who had worked with him on Dr. Seuss' Horton Hears a Who! to write the screenplay. Their task was a challenging one. Says Meledandri, "The idea of making an animated film in which the villain is your protagonist is unusual and very challenging. By the end of the film, Gru has undergone a transformation, and it's that transformation that's made possible by starting him in a place where there are aspects of him that are downright unlikable. You would not have a sense of appreciation for the journey he's gone on as a character had we not started him at that point."

Producer John Cohen felt that audiences would be able to identify with some of the things their lead supervillain does. "Gru offers a wish fulfillment. When you're waiting in line at a grocery store — and the person in front of you has 25 items in the express line and decides to pay with a cheque — that would be the perfect time to use a freeze ray. There's a great deal of comedy that springs from a character who gets to act out some of the things we wish we could do."

Actor Steve Carell, who voices Gru, says that his supervillain does have a softer side. "The story is really sweet," he says. "That's what drew me to it. As crazy as Gru sounds and as diabolical and mean and awful as he is, there is humanity to him. It comes out in little bits, all the way through. It says a lot about how people can change, and how aspects of a person can come to the surface, given a different circumstance. People aren't either good or evil&ldots;there's always some good to evil and there's always some evil within good. When you see someone who on the surface just seems despicable, and then they're not, that's interesting and fun to explore."

You'll have a chance to see how good or evil Gru is when Despicable Me open in North America on July 9th, 2010.