Devil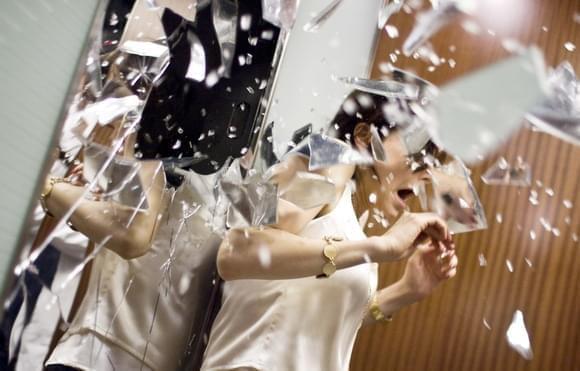 Photo: ©2010 Universal Pictures
Director(s): John Erick Dowdle
Writer(s): Brian Nelson
Cast: Chris Messina, Logan Marshall-Green, Geoffrey Arend, Bojana Novakovic, Jenny O'Hara, Bokeem Woodbine, Matt Craven and Jacob Vargas
Release Date(s)
Sep 17, 2010 - Wide


When five strangers enter an elevator in Philadelphia, the expect the usual mundane trip to their floor. Instead they are flung into a series of horrifying events that leads to only one conclusion: One of them is the Devil.

Devil is the first in what M. Night Shyamalan is calling The Night Chronicles, a series of story ideas he's developing with up-and-coming filmmakers. In this case, Night's story idea was written into screenplay form by Brian Nelson and directed by John Erick Dowdle. Shyamalan says collaborating with younger filmmakers gives him new energy. "It could be a benevolent thing, but it's really not. I want to be inspired and pushed and connected to the audience, and it's nice to have younger people who are connected to the heartbeat of what is being felt today. It's great to be in the game, taking risks and having people constantly challenging me; it's a way to stay excited."

Producer Sam Mercer says Devil takes the fear of being stuck in an elevator and ramps it up. "Think about what you don't want to be trapped in, and that's in an elevator stuck between the 21st and 22nd floors. When the lights go out, the Muzak won't shut off and there's chaos — and then people start dying — that's terrifying. That's what this film is all about: preying upon your fears."

Night says when you're casting a movie about five people stuck in an elevator a strong ensemble is necessary. "Devil is the quintessential ensemble cast because the plot of the film is centered around finding out who of the five in the elevator is the title character, so there have to be five people who could all be the lead of the movie&ldots;or be killed at any moment. In addition, the three characters on the ground have to be equally compelling. The eight actors we hired all have a parity with each other in terms of acting skill and presence on screen, and they could all be stars of tomorrow."

Find out if this elevator ride is more terrifying than bad Muzak when Devil gets released in North America on September 17th, 2010.