Evil Dead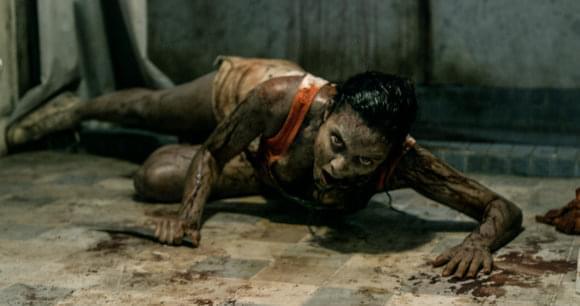 Photo: ©2013 Evil Dead LLC
Director(s): Fede Alvarez
Writer(s): Fede Alvarez and Rodo Sayagues
Cast: Jane Levy, Shiloh Fernandez, Lou Taylor Pucci, Jessica Lucas and Elizabeth Blackmore
Thirty-two years have passed since the release of Sam Raimi's cult-hit horror film The Evil Dead and now a new group have rebooted the project as Evil Dead. The story follows a group of friends as they help one of their group overcome the demons of drug addiction only to have their actions at a remote cabin unleash far worse demons.
Director Fede Alvarez makes his feature debut, directing a screenplay co-written with Rodo Sayagues. Raimi, producer Rob Tapert and actor Bruce Campbell return to the remake as producers and were interested in seeing their original remade.
"I really felt it was great ghost story that deserved to be told again on the big screen, but with high quality visuals and great acoustic treatment this time," he says. "We had to shoot the first movie in 16 millimetre. The sound was mono because we couldn't afford stereo, let alone 5.1 surround sound. There were probably only sixty prints made, so it was released in very few theatres. It only showed in certain markets on the big screen because it was unrated. So almost everyone who has seen it viewed it on either videotape or DVD. Even when it has been seen on a big screen, it was with compromised picture and sound."
Bruce Campbell was resistant to revisiting the story, wondering how many years he could keep stripping off his shirt and running around with a chainsaw, but the new filmmakers had a way around his concerns. Says Rob Tapert, "Sam had become a big proponent of Fede and suggested involving him in Evil Dead. Fede really wanted to write it with his partner Rodo Sayagues as well, so he came in with a full pitch. He showed us that we didn't need to keep Bruce's character in the movie. For Bruce, that allowed him to see it as a new project and it finally began to pick up momentum."
Will the reboot scare up the same following the original did? Find out when Evil Dead hits theatres on April 5, 2013.
Read our review.