Finding Nemo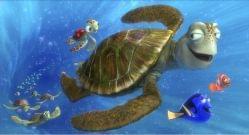 Photo: ©2003 Walt Disney Pictures/Pixar Animation Studios All rights reserved.
Director(s): Andrew Stanton
Writer(s): Andrew Stanton, Bob Peterson and David Reynolds
Cast: Albert Brooks, Elizabeth Perkins, Andrew Stanton, Geoffrey Rush, Joe Ranft, Vicki Lewis, Stephen Root, Austin Pendleton, Allison Janney, Brad Garrett, Willem Dafoe, Alexander Gould, Ellen DeGeneres and Barry Humphries
Release Date(s)
May 30, 2003 - Wide
Read our review.
The inventive folks at Pixar Animation Studios have gone off the deep end — literally — with their latest film Finding Nemo. The film, distributed by Walt Disney Pictures, follows the real and emotional journeys of father and son clown fish who become separated in the Great Barrier Reef.
Executive producer John Lasseter says "Technically, we've pushed things beyond anything Pixar has done before. Just animating fish was difficult, but our technical team has created an underwater environment that is graceful and beautiful. The real underwater world is so spectacular that it's already a fantasy world. Our challenge was to let the audience know that our ocean is caricatured. We wanted them to know that this wonderful world doesn't exist, but then using the amazing tools that we have in computer animation make it look totally believable. Our goal is always to make things believable, not realistic. By stylizing the design of things, adding more geometry and pushing the colors, we were able to create a natural and credible world for our characters."
The underwater environment provided quite the challenge for Pixar's team of animators. Early in production they identified five key components that suggest an underwater environment — lighting (patterns of caustic lighting that dance on the ocean floor and fog beams that shine from the surface), particulate matter (the ever-present debris that appears in water), surge and swell (the constant movement that drives plant and aquatic life), murk (how the color of light filters out over distance and the distance appears dark), and reflections and refractions.
As supervising technical director Oren Jacob explains, "This film is far more complicated than Monsters, Inc. in that almost every shot involves some kind of simulation program or simulated movement. On average, there are more things going on per frame in this movie than we've done before by a pretty significant amount. There was more interdependency between the various departments than ever before and we often went back and forth to make sure the lighting and other components looked just right."
Despite all the technology, Pixar continues the tradition of touching our hearts. Director Andrew Stanton thought he had a universal story about the relationship between father and son. When he pitched the story to Lasseter, he prepared a roomful of elaborate visual aids. After an hour, an exhausted Stanton asked Lasseter what he thought. "You had me at 'fish,'" Lasseter replied.
Read our review.