Here Comes the Boom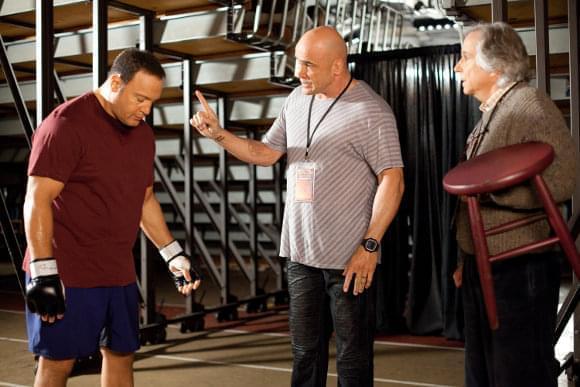 Photo: ©2012 Columbia Pictures
Director(s): Frank Coraci
Writer(s): Allan Loeb and Kevin James
Cast: Kevin James, Salma Hayek, Henry Winkler, Greg Germann, Joe Rogan, Gary Valentine, Charice, Bas Rutten and Reggie Lee
Release Date(s)
Oct 12, 2012 - Wide
Read our review.
When cutbacks threaten a failing school's music program, Scott Voss, a biology teacher who has basically given up, finds his energy again and tries to save the program by becoming a mixed martial arts fighter.
Kevin James, who co-wrote, produced and stars in the film says that "Here comes the Boom is a hero story of a guy at a failing school who has lost his inspiration, and through this journey becomes inspired as a teacher. Through him, other people become inspired, especially at the school. He's an everyman who gets the rare opportunity to step it up."
Like many sports and school movies, the production team saw this as a story of passion. "Scott is inspired by the passion that others have for music — particularly Marty and one of his students, Malia. He wants to do something because he sees how important music is to them," says executive producer Jeff Sussman. "As Scott goes on, and the challenges get bigger and bigger, he gets more and more committed. The kids need him, and he is going to fight for them every step of the way."
How much passion and fight is there in Scott Voss? You'll see when the film opens in North America on October 12th, 2012.
Read our review.