I Am Legend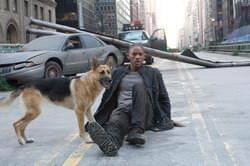 Photo: ©2007 Warner Bros. Pictures
Director(s): Francis Lawrence
Writer(s): Mark Protosevich and Akiva Goldsman
Cast: Will Smith, Alice Braga, Charlie Tahan, Salli Richardson, Willow Smith and Dash Mihok
Release Date(s)
Dec 14, 2007 - Wide


In I Am Legend, Will Smith plays Robert Neville, the last human survivor in New York City. Neville, a military scientist, is searching for a cure to a terrible disease that has wiped out the vast majority of the Earth's population, while leaving hundreds of millions as infected, violent mutants. Neville is immune to the disease and uses his own blood to experiment on mutants he captures with the help of Sam, his trusty German Shepherd.

Director Francis Lawrence was attracted to the story because "the idea of a man surviving cut off and alone in a modern urban environment was fascinating to me and one that I wanted to explore on film. I Am Legend is the quintessential story of one man against the world, which is one reason why it continues to capture people's imaginations more than half a century after it was first written."

I Am Legend is the third movie adapted from Richard Matheson's 1954 novel and according to Oscar-winning screenwriter Akiva Goldsman, "Richard Matheson is like a god to those of us who are science fiction geeks. There is a tradition within serious science fiction of reaching deeply into the roots of character to explore powerful themes — the idea of using science fiction as allegory. This film really grows from that ethic."

Smith was attracted to a story which had him acting alone for most of the film — think Castaway with zombies. Says Smith, "The process was very different for me because it's all behaviour. It's just an incredible exercise to not be able to talk yet have to communicate. To have to figure out how to communicate without words — for me, it's the centre of what acting is. When you just go quiet for a while, you start to discover a whole range of things about your character and yourself. It's a fascinating place to explore, both artistically and psychologically."

Director Lawrence felt Smith was up to the task. "What's fantastic about Will is that he has such a warmth and charisma to him. He brings so many dimensions to his role and takes you along with him at every moment. There's real sympathy for him, you're scared for him, you laugh with him and you cry with him…and all those layers exist at once in his performance. Most importantly in this role, he is able to convey everything he is going through, both physically and emotionally, often without any dialogue at all."

Still, the best compliment has to come from the story's author himself. Richard Matheson says that, "I think Will Smith is the perfect person to portray Robert Neville. I've seen almost every film he has made, and he is always totally convincing in whatever role he is playing. In this story, his character is key and, therefore, he is key."

Alone by day, Smith's Neville has to be careful at night when the heavily-mutated survivors take to the streets in an otherwise deserted NYC.

"When you're the last man alone in New York, there's some fun to be had, albeit lonely fun," says Lawrence. "We see these elements that seem so important to the world we live in, but after the pandemic happens and the world as we know it goes away, things that we spend so much time, energy and billions of dollars building are just sitting there rotting. They're absolutely useless."

Will Smith has acted opposite many other A-listers, but his on-screen companion for most of the film is a three-year-old German shepherd named Abbey. Abbey's performance is amazing…perhaps the Oscars need a golden chew toy. Abbey's trainer, Steve Berens, says that "It all lies in how you prepare the animal. You train them day after day so that when they get on set for that particular shot, they understand and are committed to the whole situation; they're in the game. We know it's work, but the whole idea is to make it fun. If you do it correctly, with love and positive reinforcement, they truly enjoy it. It's about creating a camaraderie with your dog and then passing that on to the actor. And Will was terrific with Abbey. They really developed their own bond."

The research for the film also had the filmmakers visiting the Centers for Disease Control. This included a rare chance to meet with the scientists working within the CDC's Biosafety Level 3 labs, which contain some of the world's most deadly and virulent contagions. There they learned that a planet killing virus wasn't all science fiction. According to screenwriter Goldsman, "There's a realization that some viruses are quite possibly at the top of the 'food chain.' It's humbling and terrifying to see how durable and profoundly impactful one mutated virus can be."

I Am Legend opens in North America on December 14th, 2008.