Larry Crowne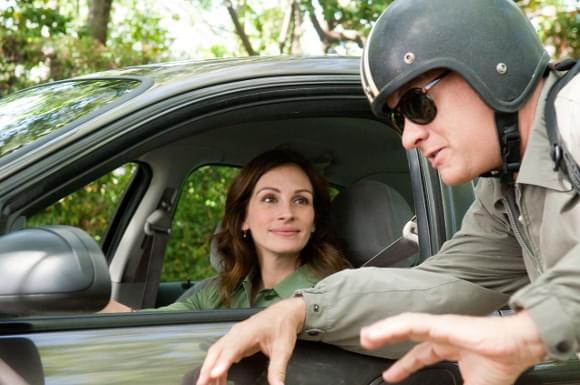 Photo: ©2011 Universal Pictures
Director(s): Tom Hanks
Writer(s): Tom Hanks and Nia Vardalos
Cast: Tom Hanks, Julia Roberts, Bryan Cranston, Cedric the Entertainer, Taraji P. Henson, Gugu Mbatha-Raw, Wilmer Valderrama, Pam Grier and Rita Wilson
Release Date(s)
Jul 1, 2011 - Wide


Tom Hanks wears many hats as he co-wrote, directed and stars in Larry Crowne, a romantic comedy that also features Julia Roberts. A reflection of current economic times, the film follows Larry Crowne who must reinvent himself after being downsized from the big box store he's worked in since his stint in the navy. With advice from his friends, played by Cedric the Entertainer and Tariji P. Henson, Larry heads back to college, where he gets a crush on one of his teachers, played by Julia Roberts. The pair begin to discover they're both ready for second chances.

Hanks says part of the story drew upon his actual college experience, where one of his classmates was a Vietnam vet in his fifties. Says Hanks, "I became friends with almost everybody in class, and I found this rich life experience amongst them."

Hanks had worked on the idea for a few years and in 2006, he began working on the idea with screenwriter Nia Vardalos, who starred and wrote My Big Fat Greek Wedding, which was produced by Hanks' company. Her rich characters in that film made her the perfect writing foil for Hanks. "I wanted to work with Nia because I needed her expertise," he says. "There are characters in this film that needed to have complete voices and complete arcs; they had to be authentic."

The struggles faced by Larry — downsized, divorced, and drowning in debt — are themes understood by many in the audience. Even though the script began before the recent economic woes, Vardalos knew the chords it would strike. ""What I like about this story is that it's very real. It is for every man, every woman out there who has felt: 'I'm working really hard, and I don't know if I'm appreciated or part of an infrastructure that will make America a better place.' All of us are replaceable, and that's a harsh reality. When that happens, you have to adapt. You have to reconstruct, pick up the pieces of your life and find a way to move on."

Hanks thought Julia Roberts, who worked with him on Charlie Wilson's War, would be perfect for the role of the school teacher and Hanks' producing partner Gary Goetzman agreed. "I've never seen anyone so prepared. She brought fascinating nuances to the character and shaped Mercedes into the complicated woman you see on screen. She's pitch perfect."

You can see if Larry Crowne strikes a chord with you when it opens on July 1st, 2011.